A Campsite pre-1607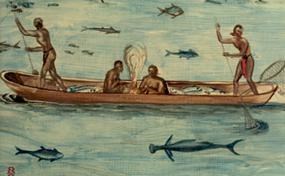 The history of Jamestown does not begin in 1607. For thousands of years before English settlers arrived, American Indians had occupied this land, as evidenced by stone projectile points excavated on the island.
Gradually, the Jamestown site became less attractive because of rising sea levels, which resulted in increasingly salty water and marshy conditions. Eventually, the area was only occupied seasonally, probably by hunting or fishing parties. Close by here, archeologists excavated aboriginal pottery sherds and a variety of types of worked stone, suggesting a campsite from the Late Woodland period.
Although Jamestown Island was uninhabited at the time of English arrival, the nearby Paspehegh Indians had established communities both to the west, where the James and Chickahominy could be more easily accessed and controlled, and to the east, where were located tempting oyster grounds. The Paspeheghs, loosely allied with Powhatan's chiefdom, participated in a series of altercations with the English. In 1610, their principal community destroyed, the survivors fled to seek refuge in other villages.
Last updated: February 26, 2015