A Timeline for Structures at Jamestown Related to the Chiles Family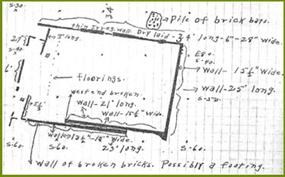 STAGE ONE:
In 1638-9, Richard Kemp, who served as Secretary of the Virginia colony during the tenure of the irascible Sir John Harvey, built his "brick house" on 3 ½ acres of land to the east of the present-day Ambler ruins. This "brick house" was designated S44 by NPS archeologists; it is the building that would eventually pass into Walter Chiles I's hands. Governor Sir John Harvey identified Kemp's house as the first brick dwelling at Jamestown and two eyewitnesses used the word "faire" to describe the house. Governor Harvey himself referred to Kemp's house as "the fairest that ever was knowen in this countrye for substance and uniformity."
Archeological evidence (excavations done in the 1930's and 1990's) indicate that structure 44 was a one- or possibly two-story home raised on a shallow footing of brickbats. A central, H-shaped chimney was shared by two rooms on the ground floor. Both rooms may have been paved with brick or tile.
Empy Jones, the lead excavator during the 1934-35 dig, kept a daily logbook and produced a freehand sketch (illustrated above) of the foundations laid bare. Jones' sketch indicated that S44 was about 23 feet long. S44 is also depicted in NPS archeologist John Cotter's 1958 base map of the Jamestown townsite.
Richard Kemp was a close associate of the unpopular Governor Harvey, who had been thrust out of office by his fellow Virginians and then briefly reinstated by the Crown. When Sir John's replacement Sir Francis Wyatt arrived in Virginia in 1639, he appointed a new Council, suspending Kemp as Secretary.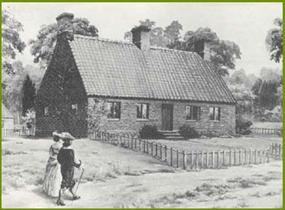 STAGE TWO:
William Kemp sold S44 to Governor Wyatt in 1641, perhaps under duress, and moved to Rich Neck Plantation on the mainland. He would not recover his old post until Governor Sir William Berkeley replaced Wyatt in 1642. Sir Francis Wyatt built the "Country House" (S38) on a half-acre lot to the west of S44. (S38 is illustrated to the left in a conjectural painting by NPS artist Sydney King.)
Around 1644, Governor Sir William Berkeley purchased the S44 property with its brick house. The deed turning the property over to Sir William referred to the "mansion house, together with All gardens, orchards, yard Backsides, out houses, buildings … late in ye tenure and occupacon of Richd Kemp esq. and by him Conveyed unto Sr. ffrancis Wyatt Kt." This was at the same time that Berkeley was building his Green Spring estate, located a few miles away on the mainland. Although Sir William owned other houses in town, he may have lived in S44 at one time or another.
In 1649, Berkeley sold S44 and its acreage to merchant and Burgess Walter Chiles I. Sometime prior to his death in 1653, Walter Chiles I acquired 70 acres at Black Point, located near the easternmost tip of Jamestown Island. When Walter Chiles I died, his widow Elizabeth retained a dower interest and remained in S44. His son Walter Chiles II inherited the estate from his father.
STAGE THREE:
Walter Chiles II married Mary Page, daughter of wealthy York County merchant John Page. The couple may well have lived with the widow Elizabeth for awhile before building their own 38- X 24-foot house sometime in the 1650's. This new house is referred to in site maps as S138 and was situated located directly in front of S44.
S138 was made of brick and likely consisted of two rooms, heated by a fireplace in the west gable. (The detail from a conjectural drawing of colonial Jamestown, illustrated to the right, depicts both S138 and S44, located next to the "Ambler House.")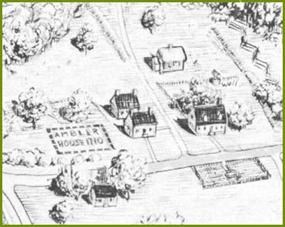 Recent archeology has indicated that a structure had stood previously on the site of S138. In 2005, NPS archeologist Dr. Andrew Veech found evidence of a post-in-the-ground structure (S178) when excavating S138. S178 appeared to be a timber building 10 feet wide and at least 24 feet long and was perhaps part of Kemp's construction efforts after 1638. It is very likely that S178 stood at the time of the Chiles family's ownership.
When Mary Chiles died, her husband Walter Chiles II married Suzanna (no last name?). When Chiles died, Suzanna wed the Reverend James Wadding and moved elsewhere. Suzanna and her husband the minister sold the lot with S44 and S138 on it to John Page, the father of Walter Chiles II's first wife Mary. John Page was a York County merchant and resident of Bruton Parrish at Middle Plantation (the site of present-day Williamsburg), where he dwelt in a brick house he had built in 1662.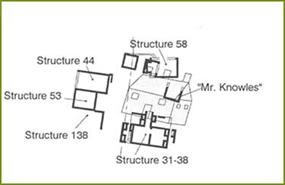 STAGE FOUR:
Sometime before September 1676, John Page tore down S44 and built S53 behind S138; archeological evidence indicates strongly that it was a wing of S138. (These structures are depicted in a 1664 plat drawn by John Underhill, illustrated to the left.)
In 1676, there was mention of looting of S53's cellar; pipes of wine were stolen during Bacon's Rebellion. Both S138 and S53 were burned down or at least badly damaged during the rebellion.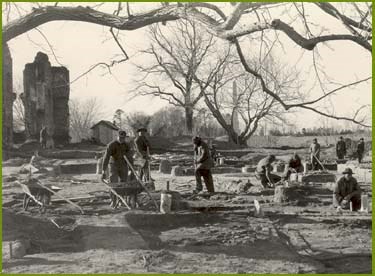 STAGE FIVE:
By 1682, both S138 and S53 were either rebuilt or repaired by William Sherwood, who had bought the property sometime before that year. (Sherwood had been purchasing property near the center of town to renovate and improve old structures, then leasing them out to burgesses and Lord Culpepper's Council.)
Sherwood's improvements to S138 and S53 were impressive. In 2005, excavators found evidence of a porch tower raised around the front doorway, probably constructed after 1676. A "porch chamber" was on the second story of the 16'3" X 13'10" porch.
When Sherwood rebuilt S138 and S53, he followed the footprint of the Chiles house, but enlarged it and probably built the aforementioned porch tower. In government leases of the property, there is mention of a "great hall" and "Dining-Room" (probably the front rooms in S138) and "a back room on the same floor" (S53) and a "cellar" (under S53).
In excavations from the 1930's (illustrated above is a 1935 NPS dig at the Chiles/Sherwood property holdings), NPS excavators H.C. Forman and Summerfield Day found about 50,000 pieces of ornamental molded plaster across the entire Ambler complex site. These were recognized by the archeologists as destruction debris used to fill in cellar holes, leveling the old building sites in preparation for construction of the Ambler mansion in the 1750's. The vast majority of ornamental plasterwork fragments (nearly 700 pieces) were associated with S138; nearly 300 were from the excavation of the cellar of S53.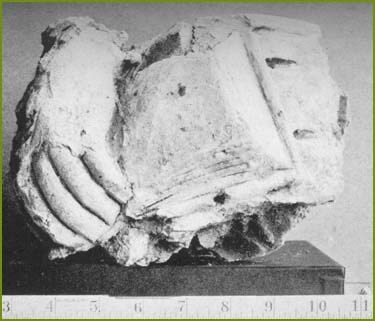 Cherub faces, a foot, a hand holding a book (illustrated to the left), mastiff heads and acanthus leaves were amongst the plasterwork debris excavated. There was no evidence of strapwork, which was typical of the first half of the 17th century. According to historian Cary Carson's report in the National Park Service's Evaluation of Previous Archeology (a document associated with its Jamestown Archeological Assessment project), the plaster fragments "were as fashionably up-to-date as any 1670-1690s plasterwork in far grander buildings in England." Carson continues: "So far as architectural historians know, S138/53 became the most dignified and fashionable public building in England's North American colonies until the Capitol at Williamsburg and the Governor's Palace were built 40 years later."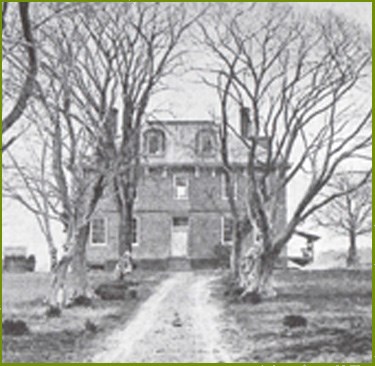 STAGE SIX
In 1697, William Sherwood died; his widow Rachel continued to lease out her property for government business.
Rachel Sherwood married Edward Jaquelin about 1699 and his eldest daughter Elizabeth (from a later marriage) would inherit his Jamestown Island plantation. She wed Richard Ambler, who built the Ambler mansion (illustrated to the right by a photograph taken before the 1895 fire that destroyed the building) and demolished S138/53, S31 and S58. It is very likely that bricks from the earlier structures were incorporated into the Ambler Mansion.
Sources Consulted:
Carson, Cary (Senior Principal Investigator). Evaluation of Previous Archaeology (part of the Jamestown Archaeological Assessment study conducted between 1992 and 1996). Williamsburg, Virginia, 2006.
Cotter, John. Archeological Excavations at Jamestown. Washington, D. C.: U. S. Government Printing Office, 1958.
Cotter, John and J. Paul Hudson. New Discoveries at Jamestown. Washington, D. C.:U. S. Government Printing Office, 1957.
Forman, Henry Chandlee. Jamestown and St. Mary's: Buried Cities of Romance. Baltimore: The Johns Hopkins Press, 1938.
---. Jamestown Archeological Assessment. Washington, D. C.: U. S. Government Printing Office, (no date).
McCartney, Martha W. Documentary History of Jamestown Island, Volume III: Biographies of Owners and Residents (part of the Jamestown Archaeological Assessment study conducted between 1992 and 1996). Williamsburg, 2000.
Tyler, Lyon Gardiner. The Cradle of the Republic: Jamestown and the James River. Richmond, Virginia: The Hermitage Press, Inc., 1906.
This paper written by NPS Park Ranger
Lee Pelham Cotton in the summer of 2006.
Last updated: February 26, 2015