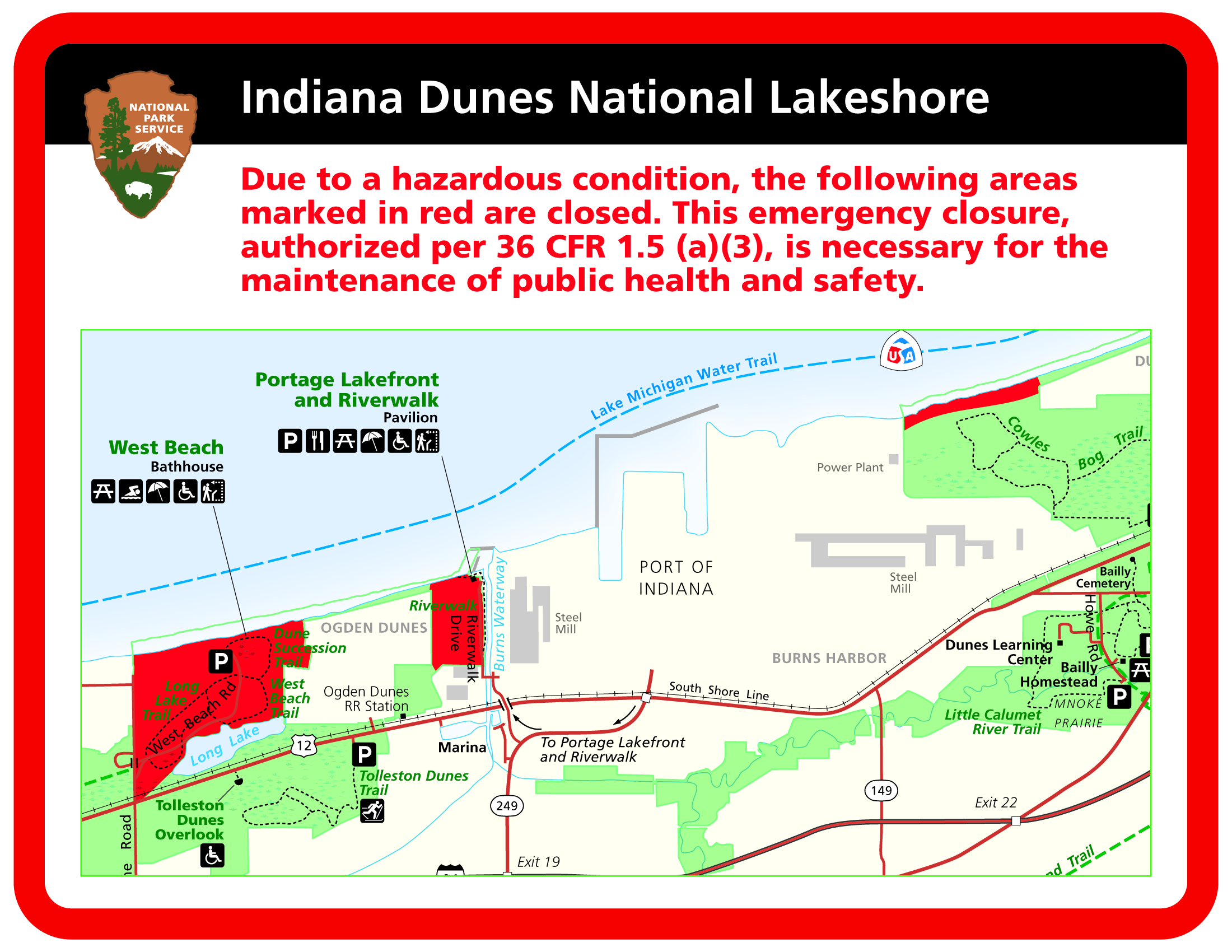 News Release Date:
April 13, 2017
INDIANA DUNES NATIONAL LAKESHORE: The National Park Service has closed a third beach area, Cowles Bog Beach, at Indiana Dunes National Lakeshore due to the spill of a toxic chemical into the Burns Waterway on April 11. In addition to the Cowles Bog Beach, both West Beach and the Portage Lakefront and Riverwalk sites in the national lakeshore remain closed until further notice. While the beach area at Cowles Bog has been closed, the trails in that area remain open to the public.
This additional beach closure is based on a recommendation that all beaches within three miles of the discharge be closed as a precaution to protect the health of park visitors. The chemical involved in the spill has been identified by the US Environmental Protection Agency (EPA), as hexavalent chromium. The amount of the spill, or if it has been fully contained, has not yet been determined by the EPA.  
The effected national lakeshore beaches and water will be independently tested and monitored to determine when they are safe to reopen. When monitoring has determined the exposure risk is no longer present, the National Park Service will reopen these beaches. The National Park Service has staff on scene and is continuing to closely monitor the situation and will provide an update as more information is available.
The United State Environmental Protection Agency is the lead agency on this incident. Specific questions as to the nature and potential harmful effects of the chemical spill should be referred to Rachel Bassler, Public Information Officer for the US Environmental Protection Agency at 312-886-7159 or by e-mail at e-mail us. Questions on local drinking water quality should be referred to the individual water provider. Information on closures within Indiana Dunes National Lakeshore should be directed to the national lakeshore's information desk line at 219-395-1609.