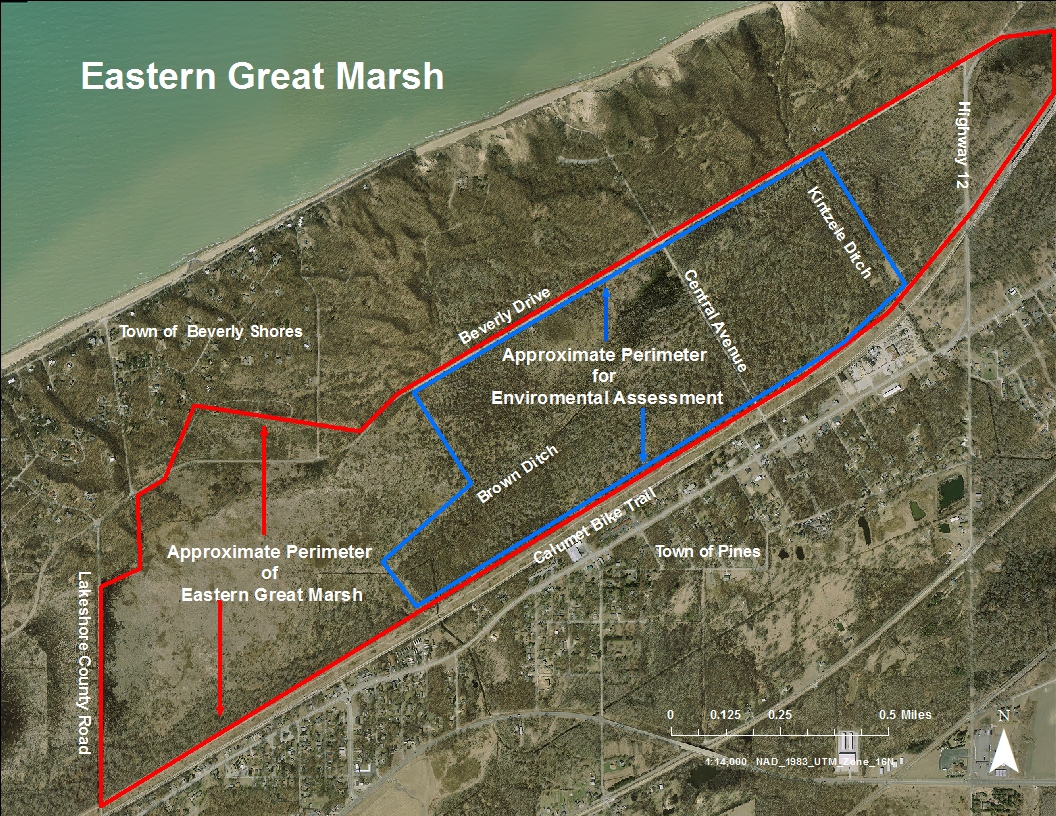 News Release Date:
April 24, 2018
INDIANA DUNES NATIONAL LAKESHORE – The National Park Service (NPS) is proposing to restore wetland hydrology and native plant assemblages in Eastern Great Marsh, a historic and extensive wetland located in Indiana Dunes National Lakeshore. Great Marsh is located 

in a dune-beach complex 

less than one mile from Lake Michigan and is situated between two large dune systems. The eastern section of Great Marsh is approximately 500 acres and t

he proposed restoration is bounded on the north by Beverly Drive and on the south by the Calumet Trail. 

Historically, Eastern Great Marsh was comprised of a variety of wetland types including a tamarack swamp, sedge meadow, wet-mesic prairie, shallow and deep marsh, and a shallow lake called Fish Lake. Human activities at the site over the last century have resulted in significant alteration to hydrology, plant assemblages, and ecosystem services.
The NPS is preparing an Environmental Assessment for the proposed action. To fully consider the impacts and thoroughly evaluate alternatives, public input is being sought on the proposed project. A public meeting has been scheduled for 

May 17, 2018 at 7:00 PM

 in the Park Meeting Room at Indiana Dunes National Lakeshore's Headquarters Complex located at 1100 North Mineral Springs Road in Porter, Indiana.
At this meeting, NPS staff will present information on the history of the site, the current conditions, and the desired future conditions. In addition, NPS will discuss alternatives that are being considered for achieving the project's goals. The public will be asked to provide input on the project, including what issues of concern should be investigated in the Environmental Assessment. The meeting is expected to last approximately 1 ½ hours. For more information, please contact Dan Mason by e-mail at 
e-mail us
.
www.nps.gov
The Indiana Dunes National Lakeshore is one of 417 units of the National Park System ranging from Yellowstone to the Statue of Liberty. Located in Northwest Indiana, the park includes 15 miles of Lake Michigan shoreline and 15,000 acres of biodiverse beaches, woods, prairies, and marshes. Up to 2 million visitors come to the Indiana Dunes each year.