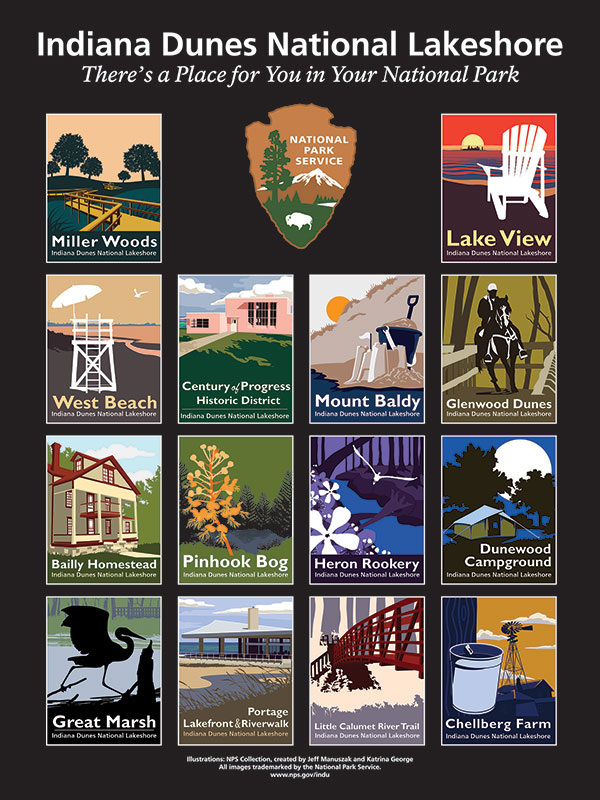 News Release Date:
August 9, 2013
Contact: Bruce Rowe, 219-395-1609
National Park Service Unveils New Site Graphics for National Lakeshore
Identity, Site, Graphics, Location, unveil, unveiling, design, logos, logo, trademarked
INDIANA DUNES NATIONAL LAKESHORE: The National Park Service has unveiled a series of more than 25 graphic logos that depict the various sites that comprise Indiana Dunes National Lakeshore. The graphics, designed by park employees Jeff Manuszak and Katrina George, are designed to help the public understand that the widely dispersed visitor areas are all part of one national park.
"We want the public to understand that the places they enjoy are part of the same national park," said Superintendent Costa Dillon. "When the public wants to know directions to an area, rules for use, operating hours, and other information to plan their visit, they need to know that the National Park Service is who to contact." Dillon added that visitors often call state, county, and town park departments looking for information on the national park sites. "This new graphics identity system, coupled with new site signs, will help the public get to the right place the first time."
 
For example, many people are familiar with such places as Mount Baldy, Portage Lakefront, Central Beach, Pinhook Bog, Miller Woods, West Beach, and the Chellberg Farm, but may not realize that these are all part of the same national park.
 
The site graphics are designed to represent each park site in a simplified graphic that is attractive, understandable, and specific. The consistent design of the graphics visually conveys the message that these places are all connected to each other as part of Indiana Dunes National Lakeshore.
 
The new logos are trademarked by the National Park Service but will be made available for use by park partners such as Eastern National, the company that runs the park's bookstore, and the Dunes National Park Association, the park friends group, and Dunes Learning Center. Park partners will be allowed to develop sales items using the logos such as clothing, pins, mugs, and patches that will help raise funds for the park and the park's programs.
 
The new logos are part of the National Park Service's ongoing efforts to increase awareness of the park that includes new entrance and site signs, new wayside exhibits, and new trailhead information boards installed over the past five years.
 
For additional information, contact public information officer Bruce Rowe at 219-395-1609 or by e-mail at bruce_rowe@nps.gov
www.nps.gov/indu
 
Indiana Dunes National Lakeshore is part of the National Park Service. More than 20,000 National Park Service employees care for America's 401 national parks and work with communities across the nation to help preserve local history and create close-to-home recreational opportunities. Learn more at www.nps.gov.