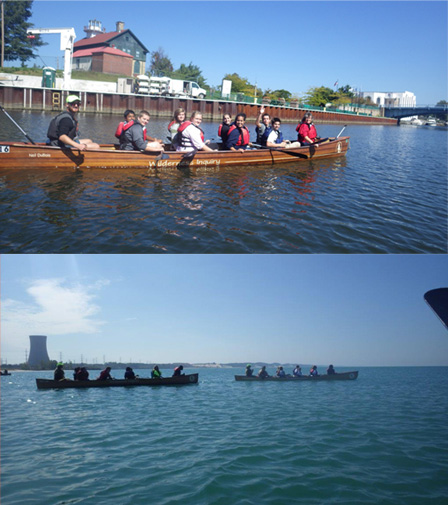 News Release Date:
August 22, 2014
For the third year in a row, local partners have come together to host a visit from Wilderness Inquiry's Canoemobile – a fleet of six 24-foot Voyageur canoes rolling into Michigan City on Sept. 15-20 to educate local youth while paddling Trail Creek. The Canoemobile delivers place-based education on urban rivers and waterways nationwide. In collaboration with the Trail Creek Watershed, local partner organizations including the Indiana DNR, LaPorte Co. Soil and Water Conservation District, Urban Waters, Izaak Walton League, Michigan City Sanitary District, Shirley Heinze Land Trust, Dunes Learning Center, National Park Service, Michigan City Parks, and Northwest Indiana Paddling Association will bring together a wide array of educational opportunities as part of the weeklong effort. Activities will focus on water ecology, fishing, the river's history, wildlife, water safety and paddling.
 
In order to ensure the success of 2014 programming and to continue the partnership in the future, local partners are encouraging community members can to assist Wilderness Inquiry's efforts by supporting the Michigan City Canoemobile program through the organization's crowdfunding campaign at http://igg.me/at/Canoemobile-MichiganCity. Funds are being raised until Sept. 12. "We are excited to return to beautiful Michigan City and continue to provide programming for the community. It has been a fantastic experience serving the youth and citizens of the area and we hope to do it for years to come," said Chad Dayton, Director of Programs & Partner Relations at Wilderness Inquiry. According to Nicole Messacar, Education Coordinator with the LaPorte County Soil and Water Conservation District, "more than 1000 local students have had the opportunity to participate in this outstanding program, which this year is partially funded through a Michigan City Community Enrichment Corporation grant. We still need help to make this year a complete success."
 
The Canoemobile will tour 24 cities nationwide this year, including New York City, Philadelphia, Washington, D.C., and Michigan City, to serve over 7,500 kids. Since its inception in 2010, Canoemobile has served over 10,000 students, addressing nature deficit disorder, summer learning loss, and the achievement gap. Research shows that these experiences help to improve school attendance and facilitate teamwork, communication, and leadership skills. Participants will experience Trail Creek from 24-foot, handmade voyageur canoes, which seat nine participants and are captained by trained guides.
A public event, open to all, will take place on Trail Creek Sept. 20th following the Beaches and Blueways that is scheduled from 9:00 AM to 12:00 PM. Explore the shoreline from the safety and stability of a Voyageur canoe. Wilderness Inquiry provides participants with all necessary equipment. No experience or registration is necessary. Community members are encouraged to attend the public event on Sept. 20 if interested in participating.
 
The Canoemobile is a program of Wilderness Inquiry in partnership with Nature Valley and many federal, state, and local organizations that care about healthy lifestyles for today's youth. Wilderness Inquiry provides outdoor adventure opportunities for people of all ages, backgrounds and abilities throughout North America and around the globe. For more information visit www.wildernessinquiry.org.
 
- ### -

Additional information about the Canoemobile can be found at:
http://www.wildernessinquiry.org/programs/canoemobile/. For more information about the Canoemobile program, contact Chad Dayton, Chad@wildernessinquiry.com or call 612-676-9419.
 
For additional information about the efforts of the Trail Creek Watershed, contact Nicole Messacar, Education Coordinator, LaPorte County Soil and Water Conservation District nmessacar@laportecounty.org or call 219.326.6808, ext 211