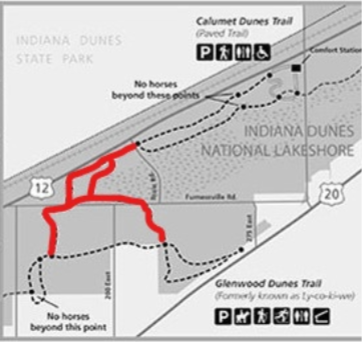 News Release Date:
July 19, 2018
Under the authority of 36 CFR 1.5(a), the Superintendent has closed a portion of the Glenwood Dunes Trail due to the NIPSCO project on Furnessville Road.  This closure is necessary for the maintenance of public health and safety.  The closure will remain in effect from July 17, 2018 to approximately August 17, 2018. 

The short loops beginning at the two trailheads will remain open.
During this closure, hikers will still have access to more than 45 miles of other trails at Indiana Dunes National Lakeshore. These trails include the Dune Ridge, Miller Woods, West Beach, Tremont, Baily/Chellberg, Little Calumet River and the Pinhook Bog Upland.  
For more information on trails and hiking opportunities at 
Indiana Dunes National Lakeshore, contact the park's information desk at 219-395-1882.