News Release
Food Drive at Indiana Dunes National Park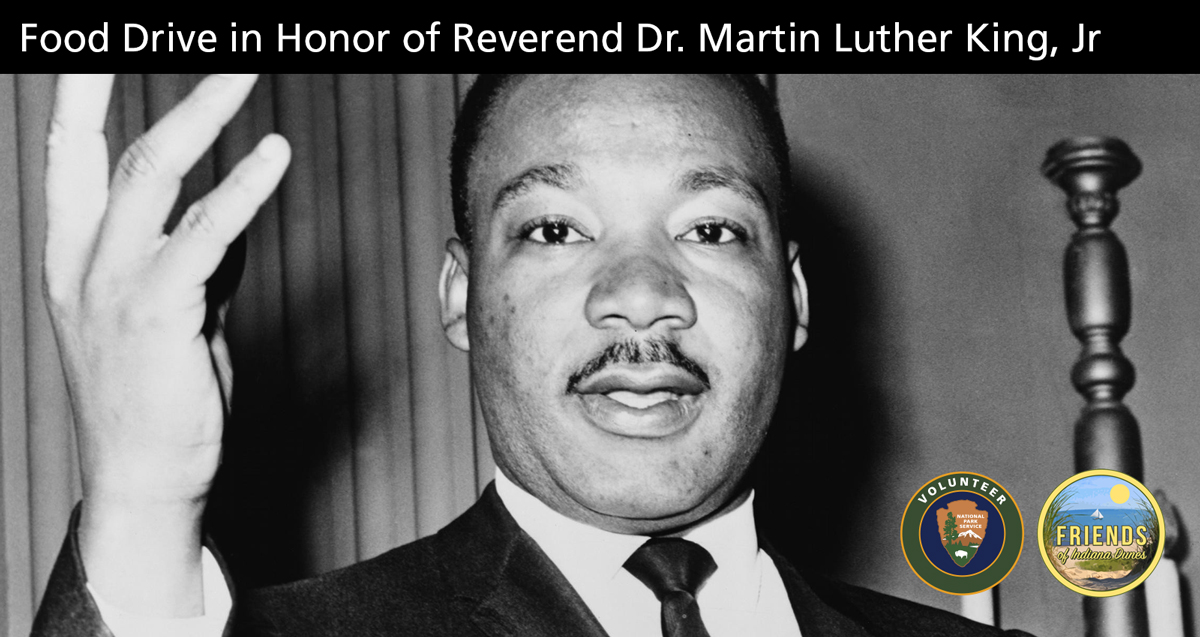 News Release Date:
December 23, 2021
To celebrate his holiday and honor of the legacy of the Reverend Dr. Martin Luther King, Jr. and his call for service to the community, the National Park Service and the Friends of Indiana Dunes are sponsoring a food drive. In most years, the park offers a program and volunteer project for the Martin Luther King Holiday, but this year, the Covid-19 pandemic makes an indoor program and volunteer project unadvisable. Instead, please bring canned or other non-perishable foods to the parking lot of the Paul H. Douglas Center or the Indiana Dunes Visitor Center on Saturday, January 15th between 9:00 am - 12:00 pm.
  
Volunteers will be posted in the parking lot at both locations, so you do not have to even get out of your car to donate. Everything collected will be distributed through area food banks. The Paul H Douglas Center is located at 100 North Lake Street in the Miller neighborhood of Gary and the Indiana Dunes Visitor Center is at 1215 N. State Road 49, in Porter, Indiana. Call the Park Connection Office at 219-221-7098 with questions. To learn more about the Friends of Indiana Dunes and how they support the park, go to friendsofindianadunes.com
---
The Indiana Dunes National Park is one of 423 units of the National Park System ranging from Yellowstone to the Statue of Liberty. Located in Northwest Indiana, the park includes 15 miles of Lake Michigan shoreline and 15,000 acres of biodiverse beaches, woods, prairies, and marshes. Up to 2 million visitors come to the Indiana Dunes each year. 
Last updated: December 23, 2021