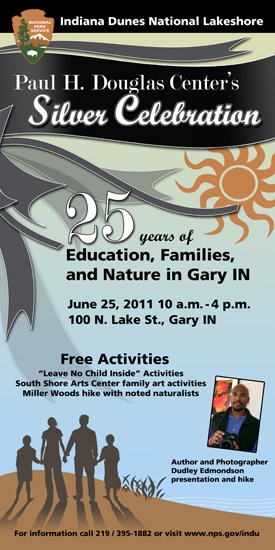 Date: June 7, 2011
Join in the festivities at Indiana Dunes National Lakeshore for the Silver Celebration of the Paul H. Douglas Center for Environmental Education on June 25th from 10:00 a.m. - 4:00 p.m. This free, family-friendly event celebrates both the 25th anniversary of the Douglas Center and "Leave No Child Inside" month.
There will be lots of free activities to choose from at three locations along Lake Street in the Miller section of Gary, Indiana. Arts, traditional crafts, and dance kick off the day at 10:00 a.m. at the South Shore Center for the Arts. Just three blocks north, the Douglas Center will be the hub of hands-on fun including fishing, nature study, photography, hiking, camping demonstrations, and crafts. At Lake Street Beach, enjoy swimming, kayaking and other lakeside activities. Starting at 10:00 a.m., there will be a free shuttle bus running between the three locations and the South Shore Train Station on Lake Street.
The keynote speaker for the day will be photographer and author Dudley Edmondson, who will share tips for connecting with the outdoors on a hike in Miller Woods. Edmondson will also display some of his stunning nature photography and excerpts from his book, The Black and Brown Faces in America's Wild Places during a presentation in the Douglas Center.
The National Park Service is working with Chicago Wilderness, the Calumet Stewardship Initiative, Gary Parks and Recreation, the Miller Citizens Corporation, and other local partners to make the Douglas Center's Silver Celebration an event to remember for another 25 years. The Douglas Center is located at 100 North Lake Street in the Miller section of Gary. For more information on this event visit the national lakeshore's website at www.nps.gov/INDU or contact Kim Swift at 219-395-1812. Indiana Dunes National Lakeshore is one of 394 units of the National Park System ranging from Yellowstone to the Statue of Liberty. Indiana Dunes National Lakeshore includes 15 miles of the southern shoreline of Lake Michigan and 15,000 acres of beach, woods, marshes, and prairie in the northwest corner of Indiana. More than 2 million visitors come to this national park each year. More information can be found at www.nps.gov/INDU.