Special Events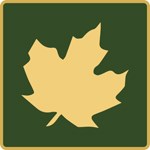 Help volunteer at one of the many events hosted at Indiana Dunes
Greet visitors and assist with interpretation, all while celebrating our park's natural and cultural resources
Get experience in outreach, communication, and education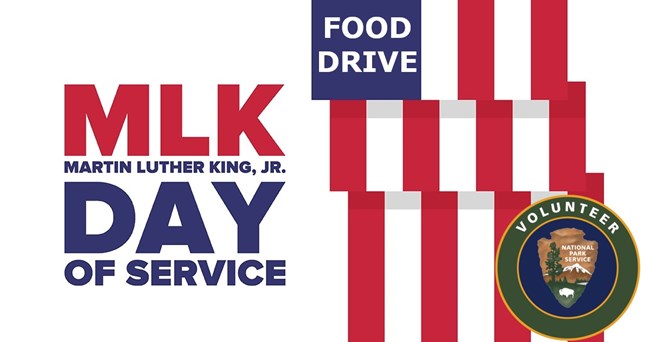 January
Martin Luther King Food Drive
(National Service Day)
To celebrate his holiday and honor of the legacy of the Reverend Dr. Martin Luther King, Jr. and his call for service to the community, Indianan Dunes National Park and the Friends of Indiana Dunes created a food drive. The local community volunteers by bringing canned or other non-perishable foods to support local food banks surronding the park.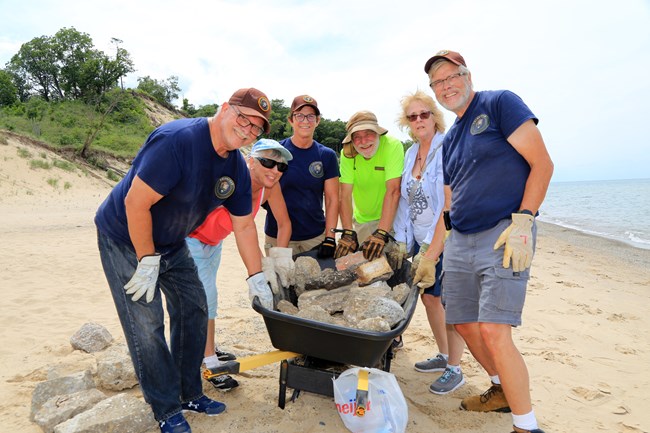 April
Earth Day Park Cleanup
(National Service Day)
Indiana Dunes Trash Trekkers Earth Day Cleanup is sponsored by the Friends of Indiana Dunes, Indiana Dunes Tourism and the Park. Family, friends, neighbors, and park employees join forces during national volunteer week to collect a winter's worth of trash and debris from roadsides, beaches, the Little Calumet River, and trails of Indiana Dunes Country to help beautify the Parks and make the region a cleaner place to live. Participating in the cleanup is a great way to take pride in your community, celebrate the spring, and enjoy your National Park.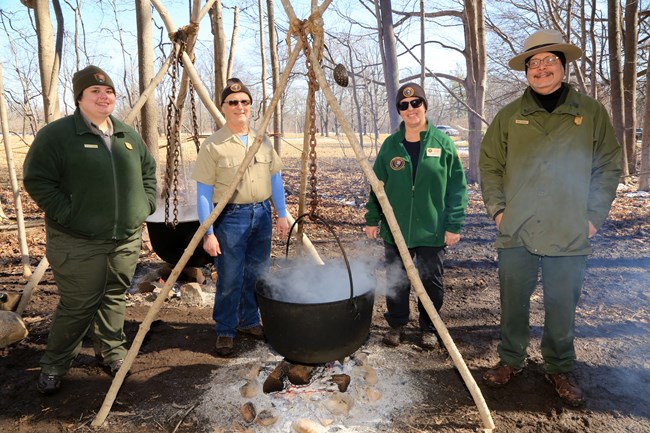 March
Maple Sugar Festival
Come volunteer and enjoy the spring at Indiana Dunes National Park's annual Maple Sugar Time festival. Help with ranger-led tours of the sugaring operation at historic Chellberg Farm. Help educate visitors how American Indians first boiled maple sap into sugar and how early settlers used large iron kettles to make syrup. Assist at the sugar shack where sap is boiled down the way the Chellberg family did it back in the 1930s. Drill tap holes, lug sap buckets using an old-fashioned yoke or help in farm house cooking recipes featuring maple syrup.
---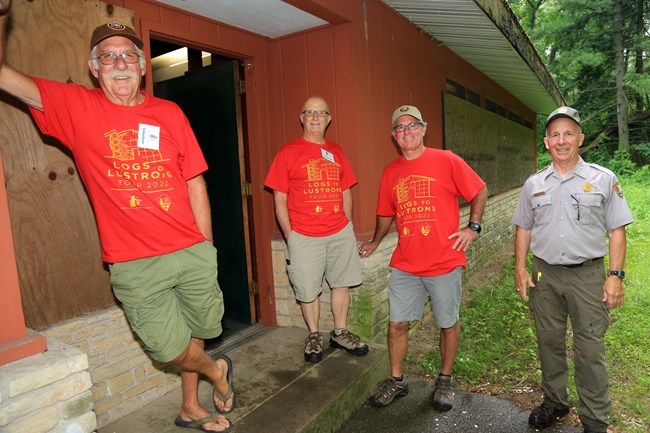 May
Logs to Lustrons
Volunteer and be part of a very special tour of architecturally significant homes in and around the Indiana Dunes National Park. The tours are sponsored by Indiana Landmarks and the National Park Service. Included on the tour are two Swedish historical homes: the Gust Lindstrom house and the restored Oscar/Irene Nelson site, two prefabricated enameled steel Lustron houses, the House of Tomorrow home from the 1933-34 Chicago World's Fair, and several architect-designed mid-century houses.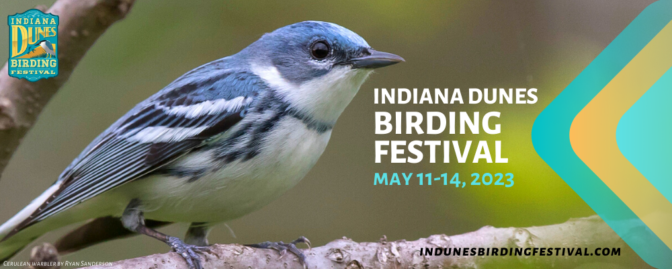 May
Indiana Dunes Birding Festival
The Indiana Dunes Birding Festival is an annual event hosted by the Indiana Audubon Society that showcases the abundance of migratory birds in the Indiana Dunes. Birding in the Indiana Dunes is the best the state has to offer. With its rich biodiversity, varying habitats and miles of Lake Michigan shoreline, the Indiana Dunes is a hotspot for migrant birds. The Indiana Dunes Birding Festival celebrates the dunes area's rich biodiversity and bird watching opportunities with the goal of positively impacting visitors and local residents through environmental education, conservation initiatives, and support of the local economy.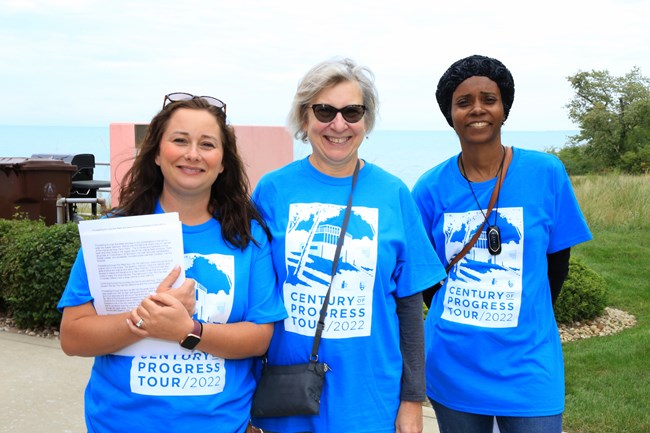 ---
September
Century of Progress Tours
Help National Park Service rangers give tours of five historic homes from the 1933 Chicago World's Fair. Get a close-up look at these amazing homes, which are not open to the public except for these tours. Help guide visitors and offer support to rangers while learning about the history of these special places.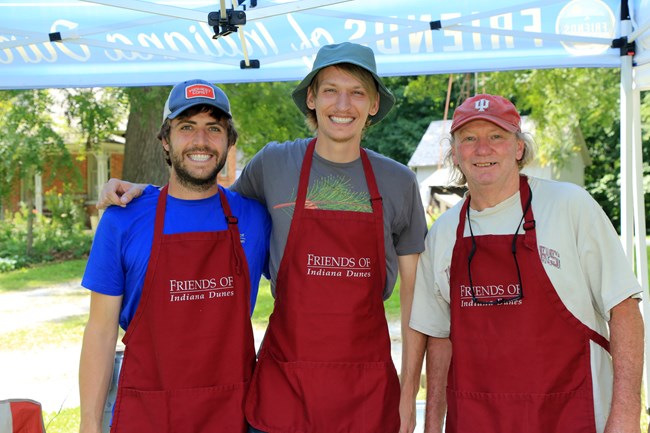 Chellberg Farm Festival
Volunteer while celebrating autumn with the Indiana Dunes Chellberg Festival at Indiana Dunes National Park's historic Chellberg Farm. Fun is the theme of the weekend. Be part many fall seasonal activities such as tractor-pulled hayrides and Kid's Corner with games and crafts. Local musicians will provide continuous entertainment and the Northwest Indiana Storytellers will be spinning tales.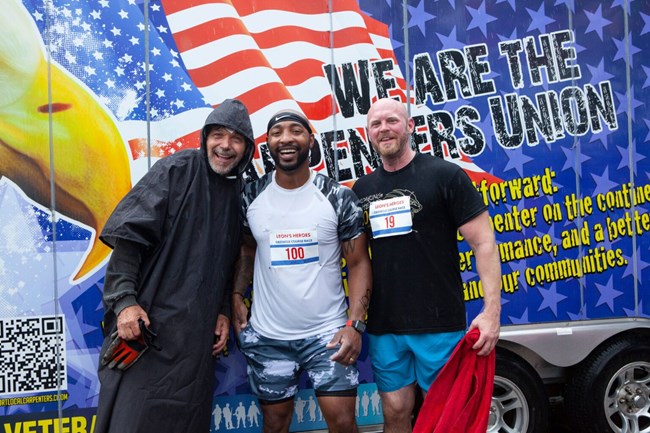 9/11 America's Race
(National Service Day)
Indiana Dunes National Park and Leon's Heroes present "America's Race" annually on September 11, at Indiana Dunes National Park's West Beach. This event is part of a national recognition of the 9/11 attacks and honors our military veterans and first responders. Volunteers help with setup through the operation of the event. You can also volunteer to come out and simply cheer on our national heroes.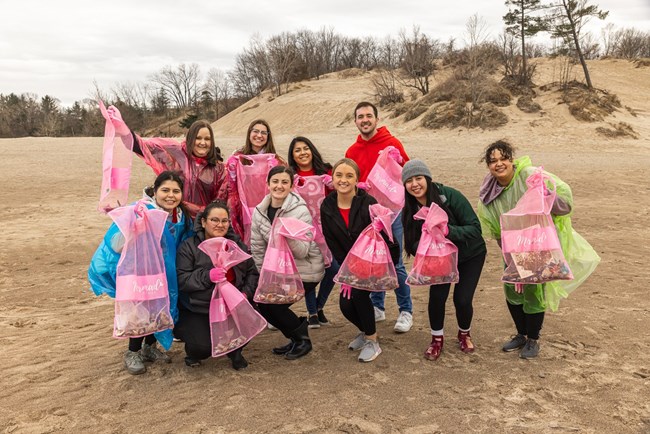 National Public Lands Day
(National Service Day)
Celebrate National Public Lands Day by giving back to your local national park! Join park staff at West Beach to remove a summer's worth of litter. Volunteers receive a fee-free coupon that grants single-day entry to ALL public federal lands. There's no better way to show your appreciation for this beautiful resource than by participating in its protection.
Volunteer Resources & Documents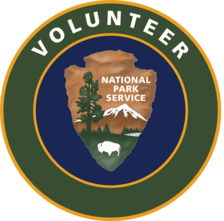 Last updated: January 17, 2023