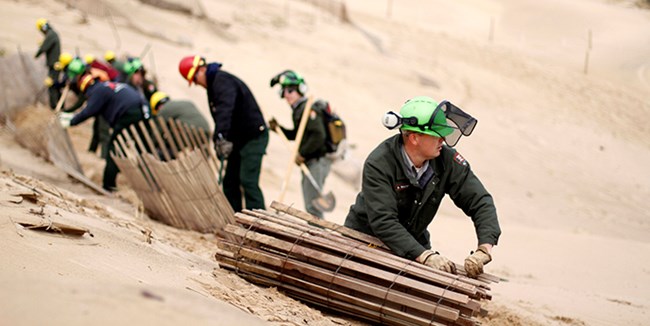 Looking for how to get involved? Browse through the website navigation or use the search tool to find opportunities.
News - What's new at Indiana Dunes National Lakeshore? The National Park provides a number of different ways for you to stay connected and informed about news, special events, and projects that are happening in the park.
Management - The park was established in 1966 by an act of the U.S. Congress in order to preserve for the educational, inspirational, and recreational use of the public certain portions of the Indiana dunes and other areas of scenic, scientific, and historic interest and recreational value.
Volunteer - Volunteers help out at Indiana Dunes with various aspects of park management including trail work, exotic plant removal, scientific research projects and providing information to park visitors.
Jobs - We fill positions in many fields, including interpretation, maintenance, administration, resource management, education and law enforcement. Some jobs are office-oriented, others focus on working with the public, and some involve working outdoors. Each job performs a vital function in helping to provide visitors with an opportunity to enjoy a unique experience, while working hard to preserve natural and cultural resources for future generations.
Planning - The National Park Service plans for one purpose - to ensure that the decisions it makes will be carried out as effectively and efficiently as possible. The National Park Service prepares a variety of planning and environmental documents to help guide management of park resources.
Support Your Park - Public support is a critical component in the management of National Park Service lands. No other federal agency relies as heavily on the generosity and kindness of its visitors, and we thank you for your past support and look forward to future partnerships. From volunteering to shopping in our bookstore, there are many ways that the public can support Indiana Dunes National Lakeshore.