Permits for Filming and Photography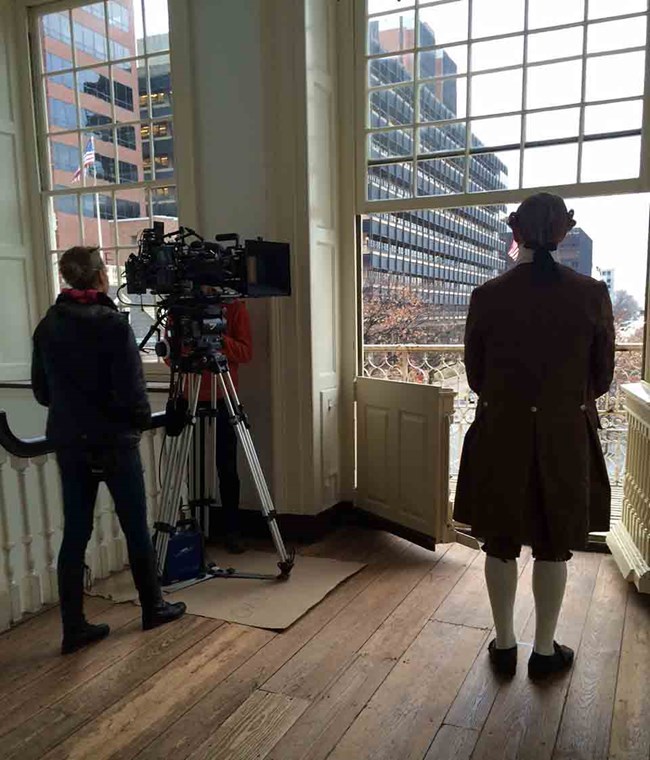 What is Commercial Filming?
Under Public Law 106-206, all commercial filming requires a permit and is subject to a location fee and cost recovery. The term "commercial filming" means the film, electronic, magnetic, digital, or other recording of a moving image by a person, business, or other entity for a market audience with the intent of generating income. Examples include, but are not limited to, feature film, videography, and documentaries and may include the use of actors, models, sets, or props. It does not include news coverage or visitor use. All commercial filming, including filming exterior locations within the park and filming within park buildings, requires a written permit.
Filming and photography – whether commercial or noncommercial – will be allowed within the park provided that the activity is consistent with the park's purpose and does not:
pose a potential threat to park resources

create an unsafe or unhealthful environment for visitors or employees

unreasonably interfere with park program or activities

unreasonably interfere with the atmosphere of peace and tranquility

interfere with NPS concessioner or contractor operations or services

Commercial filming in all buildings within the Park must take place during those times the buildings are closed to public visitation.
For visitor safety and to protect the exhibited collections, the use of tripods and other ancillary photographic devices, including selfie-sticks, is prohibited in the Second Bank of the United States, the area immediately around the stanchions that protect the Liberty Bell, and the Todd and Bishop White Houses, without a special use permit.
The collection of an admission fee to participate in permitted commercial filming and still photography activities within the buildings of the Park is strictly prohibited.
The same considerations as those which apply to building interiors will be applied by the Superintendent in granting permission for motion picture or television productions on Independence Square. The Superintendent may choose not to apply the criteria of a meaningful association with the historic resource or that it would contribute to the public understanding and appreciation of the historic resource to video production in other exterior areas of the park. Unless co-sponsored by the NPS, video production on Washington Square is limited to productions involving no more than 15 cast and crew on site at any one time.
The same criteria which apply for commercial filming activities in the buildings of Independence National Historical Park will be applied at the Edgar Allan Poe National Historic Site and the Thaddeus Kosciuszko National Memorial.
Although requests for on camera interviews with park staff remain under the discretion of the Superintendent, the NPS will not allow or issue permits where NPS staff participate in what is commonly labeled "reality TV". (Policy Memorandum 15-02)
Fees Schedule and Insurance
Before applying, please review our Commercial Filming Fee Schedule. Performance bond and liability insurance requirements must be met, and all costs incurred by the National Park Service in writing the permit, monitoring, providing protection services, or otherwise supporting filming or photography activities will be reimbursed by the permittee as a condition of the permit. Insurance forms must list the United States of America, Independence National Historical Park, 143 S 3rd. St. Philadelphia, PA 19106 as being additionally insured. A location fee will also be required as a condition of the permit. The amount of the fee will be based on the fee schedule current at the time the permit is approved. Neither the location fee nor the cost recovery charges may be waived.
Information on this page concerning special use permits only pertains to Independence National Historical Park in Philadelphia, Pennsylvania. If you are looking for information about obtaining a permit at a different park, you should contact that park directly for their park specific application, applicable fees, location availability etcfourteen days (14) notice for processing of all commercial filming permit applications.

We require a minimum of
If I'm a social media influencer, do I need a permit?
Federal law requires a permit for all commercial filming, no matter the size of the crew or the type of equipment. This includes individuals or small groups that don't use much equipment, but generate revenue by posting footage on websites, such as YouTube and TikTok. This type of activity does not meet the criteria for Interior filming.
Still Photography

The decision to require a permit for still photography activities in a park is based on the activity itself as opposed to the eventual use of the image. Generally, permits are not required for still photography activities unless:
The activity takes place at location(s) where or when members of the public are generally not allowed; or
The activity uses model(s), sets(s), or prop(s) that are not a part of the location's natural or cultural resources or administrative facilities; or The park would incur additional administrative costs to monitor the activity; or
The park needs to provide management and oversight of the activity.
If none of these conditions exist a permit is not required. If one of the above conditions does exist, the same considerations which apply to building interiors for commercial filming will apply for still photography. Still photography permits are subject to cost recovery and location fees. Wedding photos taken by either commercial or noncommercial photographers require a permit. Wedding photos are permitted only in certain specifically identified areas of the park, but not in park buildings. Wedding photography is prohibited on Independence Square and Independence Mall with the exception of permits issued to the Independence Visitor Center Corporation for Block 2 areas only. Visit our page on wedding photos for more information.
What about photography workshops?
If you are planning a photography workshop, you may need a commercial use authorization. See the commercial use authorization page for more information.
Audio Recording
Audio recording does not require a permit unless:
It takes place at a location where or when members of the public are generally not allowed;
It uses equipment that requires mechanical transport;
It uses equipment that requires an external power source other than a battery pack; or
The NPS would incur additional administrative costs to manage and oversee the permitted activity to:

Avoid unacceptable impacts and impairment to resources or values; or
Minimize health or safety risks to the visiting public.
If a permit is issued, cost recovery must be collected, and a location fee based on the location fee schedule for still photography must be collected
Need Help?
If you're unsure if you need a permit for filming or any other special use, please feel free to contact our Special Park Uses office staff:
Our Special Park Uses Office can also provide guidance to help you complete this form:
Last updated: September 1, 2023