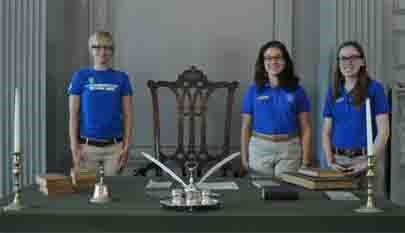 Leah Seyfert, Aryel Beck and Juliana Dearr all have one thing in common, but it's not what you think.
Leah, Aryel and Juliana spent the summer as Student Conservation Association interns at Independence National Historical Park. For the past three months, they have staffed duty stations next to National Park Service Rangers and Guides. They have worked on kids programs like the Military Muster, offered jointly by the park and its partner, Historic Philadelphia, Inc. And they have answered visitor questions –think, where can I find a good cheesesteak? –at the Independence Visitor Center.
The SCA Historical Interpretation Internship places students or recent grads in national parks around the country. Interested students apply through the Student Conservation Association and are matched up with appropriate parks based on their interests and experience. The programs gives young people a chance to get a feel for what it's like to be a National Park Service Ranger, to see the inner workings of the park and get up close and personal with rangers and visitors.
Each came to this internship for different reasons. Going into her senior year as a history major at Rowan University with a dream to pursue public history, Leah has known she wanted to work for the National Park Service since she was a sophomore in high school. Unlike a classroom setting, she explains, a national park offers the "unique experience and interactions you get talking with people from all over the world." And why INDE?How could she not be impressed by the "historical weight this place carries."
Having completed this summer as both an SCA intern and an AmeriCorps volunteer, Aryel is applying to the Peace Corps before launching a career related to the National Park Service. Just graduated from the University of Wisconsin, Milwaukee, with a degree in Anthropology, Aryel is fascinated by the interpretation of historical information. Her internship at INDE has given her a chance to get a feel not only for working in a National Park, but equally important, for all the peripheral jobs associated with national parks, from historical reenactors to contract archeologists. Spending the summer in Philadelphia has been an eye opening experience for her, and one that she's loved. But it doesn't change her goal of getting a position with the Peace Corps that will take her to Asia or South America.
Juliana also recently completed a degree in Cultural Anthropology, from the New College of Florida. After hearing about the backcountry experiences of her roommate, Juliana knew she wanted to apply to historical parks. She enjoys the opportunities presented by interpretation and enjoys working with people. For her, the best challenge of the job has been learning "how to deliver the exciting interactions visitors are looking for –to be able to make history feel exciting and new." For her, public education doesn't just educate the visitor. A student of Hebrew linguistics, Juliana knows that teaching something means learning it again (the direct translation of the word from Hebrew). She's been impressed with the visitors she's had the pleasure to meet while on this program.Juliana's not sure what's next for her. Definitely traveling the country, perhaps through more internships. She's interested in experiencing different types of parks, different parts of the country.
So what does each of these interns have in common? Getting out and exploring all that this international city has to offer –beyond the park boundaries!