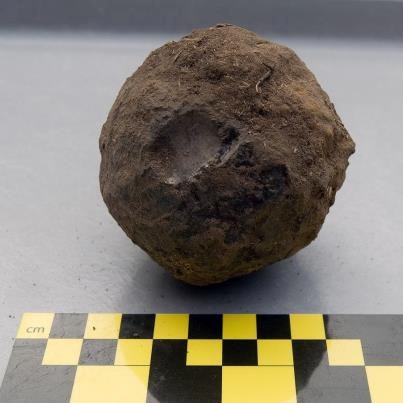 Release Date: October 25, 2012
Contacts: Jane Cowley, Jane_Cowley@nps.gov, 215-597-0060

Philadelphia - On Wednesday, October 24, 2012, a contractor working for Independence National Historical Park on Independence Square found an object among tree roots that is likely a 19th-century cannon shot. Resting not far below the surface, the item could be a remnant from a Civil War recruiters' encampment.

The object was immediately removed and secured by park archeologists and law enforcement officers. As a precautionary measure, the park consulted with the Philadelphia Police Department Bomb Squad, who confirmed via x-ray that the object is solid and never posed any danger to the public. Based on observed characteristics the object appears to be solid cannon shot. The small, spherical object weighs 2.8 pounds with a diameter of 2.9 inches.

Known as the birthplace of the United States and for its role in the American Revolution, Independence Square also has connections to Civil War history. Independence Square was home to Camp Independence, a Civil War recruitment camp. In September, 1862, the country was in the midst of the Civil War, which had become increasingly unpopular. Philadelphia officials, recognizing the decline in enlistments, called on the patriotic spirit of Americans to join the army. They established a military recruitment center, Camp Independence, on Independence Square.

Joining in the National Park Service commemoration of the sesquicentennial of the Civil War, Independence National Historical Park has offered a series of programs in the park about the role of Independence Square and Independence Hall during the Civil War. Ongoing investigations into artifacts discovered in the park, such as this one, continue to shed light on that part of our nation's history.