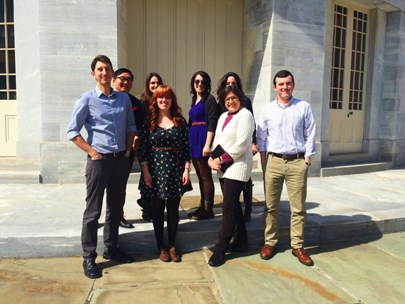 INDE is proud to share a story submitted to the park by Jimi Hightower, a participant in the Park Break program this year. Park Break is a week-long seminar designed for students interested in careers in park and land management. All of the park staff who met and worked with these students were impressed by their dedication, enthusiasm, knowledge and skill. Thank you to the George Wright Society and to the participants for all their hard work!
A Reflection on a Career with the NPS
On my birthday, I found out that I was accepted to participate in 2015's Park Break fellowship. It was quite the birthday present considering what a valuable and prestigious opportunity the program presents. Park Break is an all-expenses-paid, park-based seminar available to graduate students who are interested in careers in park management, park-related research, and education. It is organized by the National Park Service (NPS) and the
George Wright Society (GWS)
. The GWS is the professional association for researchers, resource managers, administrators, and educators who work in or on behalf of parks, protected areas, and cultural sites. I have been working with the NPS for the past year at
Klondike Gold Rush National Historical Park (KLSE)
on a program called "In My Backyard" (IMBY). The mission of IMBY is to connect youth with community, cultural, and natural resources. Although I've been working with the NPS, this opportunity was valuable because it allowed me to gain experience in another national park and learn more about the agency. I heard about this fellowship opportunity from the Operations Manager of my Master's program and was further encouraged to apply by Ranger Kelsey Johnson at KLSE.
I was accepted to the cultural resources session that was hosted by Independence National Historical Park (INDE) in Philadelphia. I was one of eight graduate students accepted nationally to participate. It was an intensive five day fellowship in which we designed an exhibit that incorporated the archaeology of the site. Our exhibit was designed to answer the following research questions:

1.What information do archeological investigations at New Hall yield about the U.S. War Department?


2.How can we incorporate the collections into our exhibitions there?
In addition to designing the exhibit, we met with park employees to learn more about their involvement and history with the NPS. We also went on tours to learn about New Hall and how similar sites have been interpreted throughout the park.