News Releases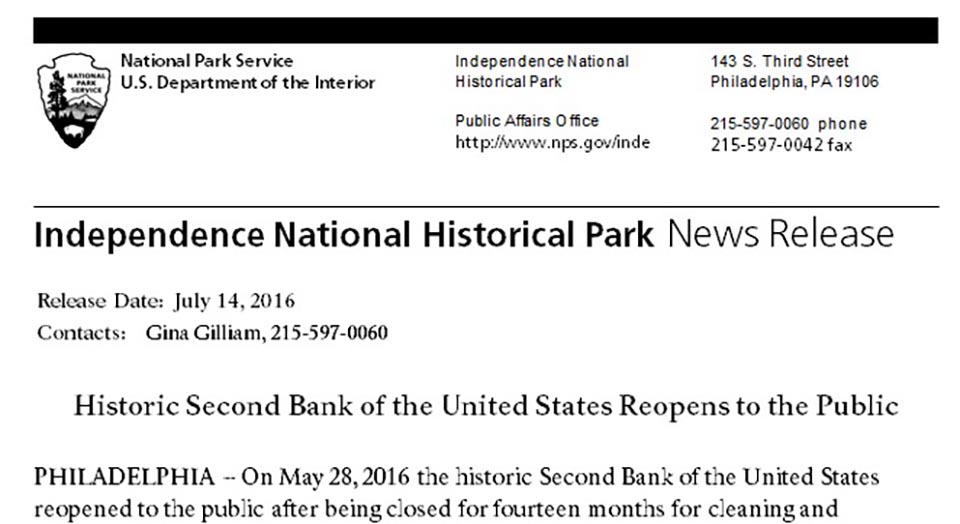 July 14, 2016
Historic Second Bank of the United States Reopens to the Public
On May 28, 2016 the Portrait Gallery in the Second Bank of the United States reopened to the public after being closed for fourteen months for cleaning and conservation. Cleaning and conservation work was necessary because of a small fire in a mechanical unit in the basement that occurred in January 2015.
April 29, 2016
Tourism to Independence National Historical Park creates $365.3 million in Economic Benefits
A new National Park Service (NPS) report shows that 4.3 million visitors to Independence National Historical Park in 2015 spent $247 million in communities near the park. That spending supported 3,900 jobs in the local area and had a cumulative benefit to the local economy of $365.3 million.
April 28, 2016
INHP Announces Public Affairs Officer
The Independence National Historical Park announced the appointment of Gina Gilliam as the new Public Affairs Officer. Gilliam will oversee the Park's media relations, partnership, special events and communications activities.
June 09, 2015
Philadelphia's Stripes and Stars Festival Commemorates Joint Birthdays of the U.S. Flag and Army
From star-spangled banners to five-star generals, Philadelphia celebrates the shared birthday of two of our country's greatest institutions—the United States flag and Army! This year's Stripes and Stars Festival will take place on Sunday, June 14, 2015 at locations throughout Independence National Historical Park and Historic Philadelphia, including Independence Hall, Betsy Ross House, and the National Constitution Center, which will feature $5 admission, courtesy of Macy's. Events include flag raising ceremonies, a patriotic parade, giant flag folding demonstrations, and a moving naturalization ceremony.