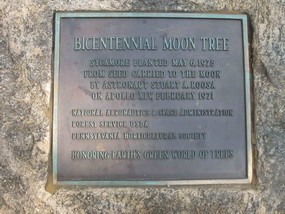 Date: September 14, 2011
Contact: Jane Cowley, 215-597-0060

Moon Tree Clone to Grow in Washington Square

Philadelphia - In celebration of our national public lands, gardeners at Independence National Historical Park will plant a clone created from the ailing Moon Tree at Washington Square on September 24, 2011 at 1 p.m. September 24 is National Public Lands Day, a day celebrated around the nation with volunteer projects to clean up and care for our nation's public lands.

In 1971, Astronaut Stuart Roosa carried hundreds of tree seeds to the Moon on Apollo XIV. On May 6, 1975, one of the trees grown from those seeds was planted in Washington Square, which is now part of Independence National Historical Park. On September 24, 2011, at 1 p.m., park gardeners will plant a new Moon Tree, cloned from the original, to replace the failing tree. Wood from the original tree will be recycled and used in plaques and other memorial items around the park.

Visitors, residents and representatives of the media are invited to join us for a ceremony marking the next stage in the life of the original Moon Tree and the planting of the new, cloned Moon Tree. The event will start at 1 p.m. on the Northeast corner of Washington Square. Speakers will include park superintendent Cynthia MacLeod, Colonel Christopher Roosa (son of Stuart Roosa), and and Anthony S. Aiello Director of Horticulture and Curator, Morris Arboretum of the University of Pennsylvania.

WHAT: Moon Tree removal and Moon Tree planting ceremony
WHEN: Saturday, September 24, 1 - 2 p.m.
WHERE: Washington Square, Northeast corner near Walnut and
6th Streets

Washington Square was one of the original squares in the 1682 plan for the City of Philadelphia as designed for William Penn. It became a Potter's Field or Strangers' Burial Ground in 1706 and also served as a burial ground for the town's free and enslaved Africans. During the Revolutionary war it doubled as a military cemetery; more than 2,000 soldiers - both patriots and prisoners of war -were buried here and the Tomb of the Unknown Soldier of the American Revolution was established in 1953.

Washington Square is also home to Philadelphia's only Moon Tree. Since taking ownership of Washington Square in 2005, the National Park Service has cared for this tree. Park gardeners will replace the ailing tree with a clone grown by Morris Arboretum of the University of Pennsylvania. More information on Moon Trees is available at the NASA Moon Tree web page.