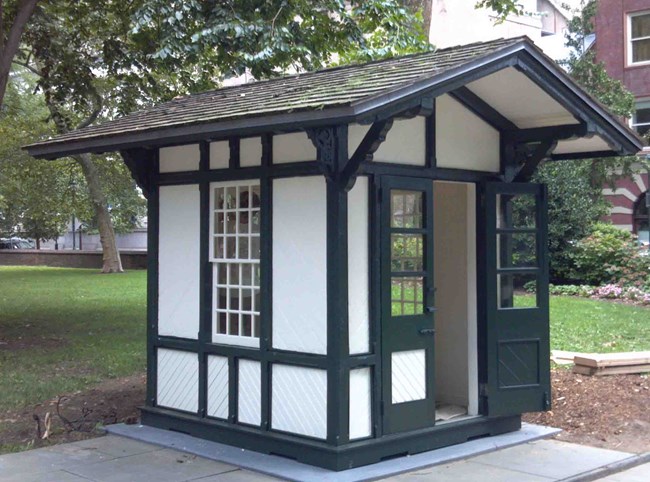 Release Date: August 6, 2012
Contact: Jane Cowley, 215-597-0060, e-mail us
Philadelphia: One of the few remaining historic Philadelphia guardboxes from the 19th century was restored today to its rightful location in Washington Square in Independence National Historical Park. Removed from Washington Square in early June, the guardbox was rehabilitated by the Fairmount Park Historic Preservation Trust through a partnership between the Trust, the National Park Service, and the Society Hill Civic Association.

Guardboxes have been used in Philadelphia since the 18th century. Fewer than twenty of these original guardboxes remain. The guardbox returned today to Washington Square was constructed by the Fairmount Park System in the 1890s as a portable building without a permanent foundation. The rehabilitation project included structural repairs and replacement, rehabilitation of the tongue and groove moldings and woodwork, and door and window rehabilitation, retaining as much of the original joinery as possible and using new or salvaged material to match the original profile.

In celebration of this accomplishment, Independence National Historical Park will be offering a special program about Washington Square, including the guardboxes, on August 23 and 25. August 25 is Founder's Day, the anniversary of the creation of the National Park Service. Details about this program will be available at www.nps.gov/inde.

A unit of the National Park Service, Independence National Historical Park was created by an Act of Congress on June 28, 1948. Accredited by the American Association of Museums, Independence NHP covers almost 54 acres in Philadelphia's Old City, and includes Independence Hall, the Liberty Bell, and other historic buildings associated with the founding of the United States. At the Independence Visitor Center, located at 6th and Market Streets, visitors can pick up a park brochure, park map, and the free, timed tickets required for Independence Hall. For more information visit the park's website, https://www.nps.gov/inde or follow us at www.twitter.com/independencenhp.