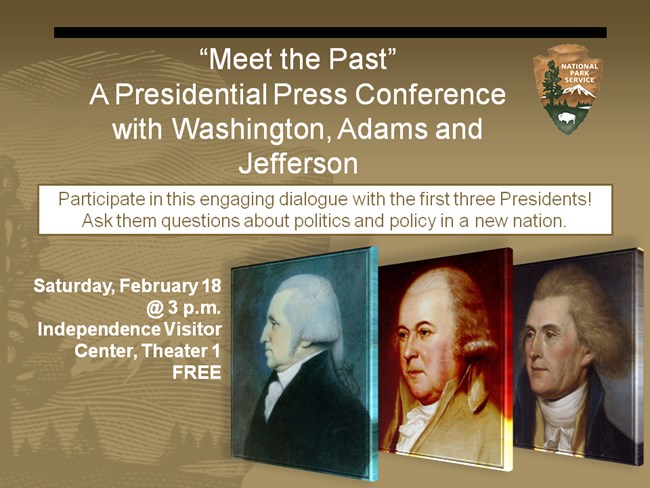 Release Date: February 10, 2012
Contact: Jane Cowley, 215-597-0060, e-mail us
Philadelphia:Independence National Historical Park announces two special programs in celebration of Presidents' Day Weekend.
On Saturday, February 18 at 3:00 p.m. in the Independence Visitor Center, visitors are invited to participate in a press conference with the first three Presidents of the United States. In the one-hour program "Meet the Past," visitors will be encouraged to ask the Presidents about their administrations and the decisions that they made while in office. A National Park Service Ranger will moderate the event for Presidents Washington, Adams, and Jefferson and will provide notebooks, pencils and press passes to interested citizen reporters.
On Saturday, February 18, the Germantown White House will be open from 10 a.m. - 4 p.m. Typically closed for the winter season, the house and exhibits will be open for one day only to celebrate the birthday of our first President. The oldest official presidential residence, the Germantown White House twice sheltered George Washington. In October 1793, he found refuge during the Yellow Fever epidemic in Philadelphia. Continuing the business of government, he held four cabinet meetings here. The next summer, it was a welcome retreat for him and his family near Philadelphia, the Federal Capital. Located at 5442 Germantown Avenue.
These programs are free and open to the public as part of Independence National Historical Park's Presidents' Day celebration.
A unit of the National Park Service, Independence NHP was created by an Act of Congress on June 28, 1948. A visit to Independence National Historical Park should start at the Independence Visitor Center, located at 6th and Market Streets. Here, visitors can pick up a park brochure, park map, and the free, timed tickets required for Independence Hall. For more information visit the park's website, https://www.nps.gov/inde or follow us at twitter.com/independencenhp.