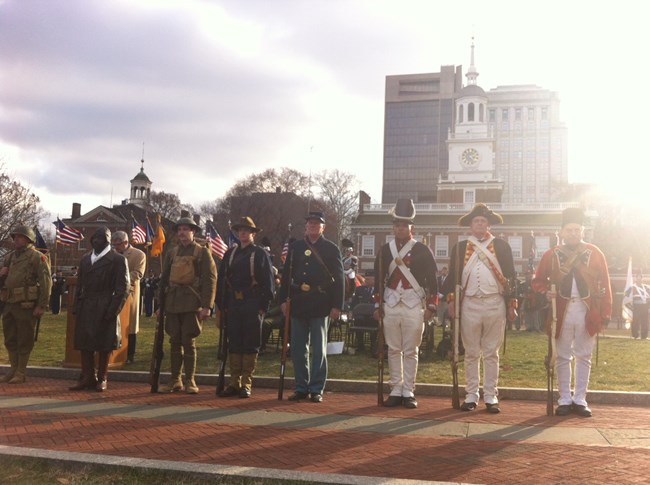 The Pennsylvania National Guard can trace its roots back to the Pennsylvania Associators, a military unit formed by one of the park's favorite founding fathers: Benjamin Franklin.
In celebration of the 266th anniversary of the Pennsylvania National Guard, and in honor of Ben Franklin, Independence National Historical Park hosted a ceremony on Saturday, December 7, 2013, along with the Pennsylvania National Guard and the Philadelphia Flag Day Association.
The ceremony included comments from Superintendent Cynthia MacLeod, Adjutant General of PA Major General Wesley Craig, and Army National Guard Historian Joseph Seymour. The invocation and benediction were provided by PA National Guard Chaplain John Furman, and the Savoy Company performed the National Anthem. Chaplain Furman was particularly entertained by Superintendent MacLeod's observation on Franklin's creative methods for improving attendance at religious services.
"On a complaint from the chaplain of his unit that soldiers were not attending religious services, Franklin assigned the chaplain the role of distributing rum rations, following the Sunday services," MacLeod explained. "After that, in the words of Benjamin Franklin, 'never were prayers more generally and more punctually attended.'"
Following the ceremony, National Guard Soldiers and Airmen processed in historical uniforms, marking each time period of the Pennsylvania National Guard, from the Pennsylvania Associators to the present day.
Following the outdoor ceremony, it was standing room only at the ever-popular park program in the Second Bank of the United States on Washington's crossing of the Delaware River on Christmas night, 1776. To a full house, Interpretive Ranger Mike Doveton explained the roll of the Pennsylvania Associators during the daring crossing.