Junior Ranger Challenge -- Liberty Bell
What is the Liberty Bell?
Originally called the State House bell, this bell rang in the tower of Independence Hall a long time ago. Back in Benjamin Franklin's day, the bell rang mostly to call lawmakers to their meetings but it also rang to call the townspeople together to hear the reading of the news. Maybe it rang on July 8th in 1776 when the Declaration of Independence was first read out loud in Philadelphia. Later, people fighting to end slavery used the bell as a symbol for their cause, calling it the Liberty Bell. If you are wondering about the crack, keep scrolling down...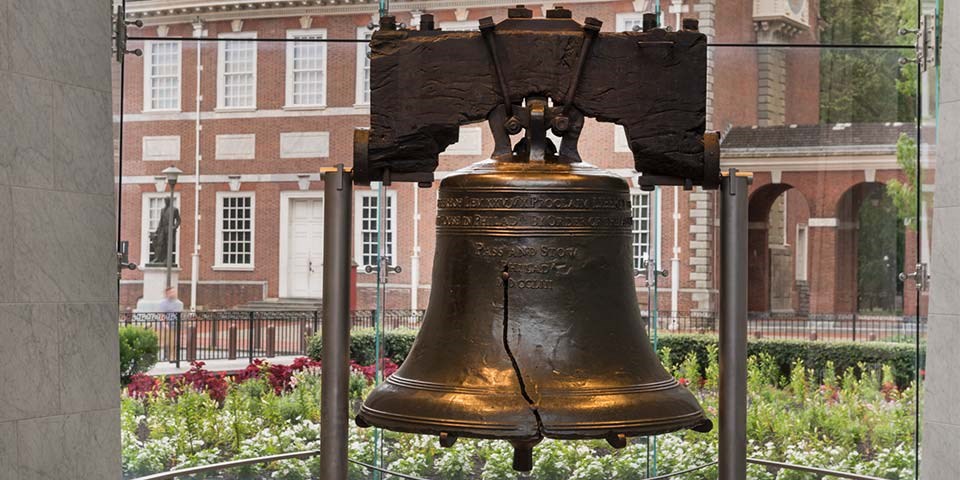 Your challenge: Choose what liberty means to you.
Directions
1. Look carefully at the picture of the Liberty Bell.
2. Read about the story about the Liberty Bell below.
3. Answer the challenge question at the bottom.
The Liberty Bell's Message
The words around the top of the Liberty Bell tell us that Pennsylvania lawmakers ordered the bell to go in their State House. Today, we call that building Independence Hall. The words on the bell are: "Proclaim Liberty throughout all the land unto all the inhabitants thereof". People fighting to end slavery in the United States in the 1830s saw that message and gave the bell its nickname – the Liberty Bell. That message of liberty everywhere, for everyone, never goes out of style – it's what makes this bell important to people all around the world today.
The Crack
The bell rang thousands of times for over than 80 years before it first cracked. We don't know exactly when or why it cracked. Maybe it just wore out. It developed a thin crack – no wider than a hair – that ran from the bottom of the bell up through the words in the middle of the bell. Workmen widened the crack on purpose – that's called stop drilling – to repair the bell. But, the repair job failed and the bell cracked again on George Washington's birthday holiday in 1846. They had to stop ringing the bell then. Why do we keep this broken bell? Because its message of liberty is still important today.
Challenge Question
Even though the Liberty Bell doesn't ring anymore, people still think about the Bell's message of liberty everywhere, for everyone.
What does "liberty" mean to you? Choose one of the answers below, or come up with your own answer.
Staying up past my bedtime
Watching TV whenever I want
Listening to the music I choose
Wearing whatever I want to school
Saying what I think
Last updated: July 5, 2019