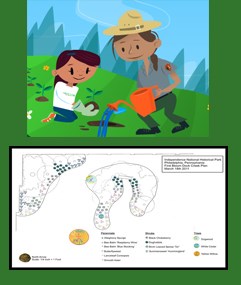 Listen to a special interview with a Ranger who will talk about the NPS program First Bloom featuring Mike McGrath from the radio show, You Bet Your Garden.
Click Here to listen to the interview


First Bloom bird watching fun
Visitors can participate by helping us conduct a bird count throughout the park. Print out a bird count brochure and keep track of how many birds you see throughout the day. Independence NHP bird facts sheet


First Bloom Almanac 2011
(pdf download)
First Boom website

Independence's First Bloom web site

Garden Design contest vote for Independence

First Bloom Dock Creek Garden Design 2011
"Liberty, when it begins to take root, is a plant of rapid growth."
GEORGE WASHINGTON, letter to James Madison, Mar. 2, 1788
Over 200 years ago, a group of men voted for independence on a hot summer day in July of 1776. Now, you have the chance to follow in their footsteps and vote for Independence, yourself! I hope you will all show your support and pride in Independence NHP by voting for our Garden Design in the First Bloom Contests! Please read below for more details!
First Bloom is a National Park Foundation program that connects kids between 4th and 6th grades to nature and national parks. First Bloom kids meet with park rangers monthly over one program year. They engage in outdoor, hands-on activities and build their relationship with the outdoors and their national parks.
Toward the end of the program, youth plant a native landscape at a national park. That landscape is a lasting connection for those youth, a transferable experience, and a feature that all future visitors to the park will enjoy.
The goals of First Bloom are to:
connect kids to the outdoors

bond children – particularly underserved urban youth – to their national parks

organize native plantings that educate visitors and enhance their experience

build the next generation of outdoor and national park enthusiasts and stewards
Youth participating in First Bloom increase their knowledge, enthusiasm, and commitment in the core learning areas of the program, which include:
national parks

conservation

native plants

stewardship
As of the summer of 2009, First Bloom programs have operated in these cities: Austin, Boston (6 participating parks within the metropolitan area), Los Angeles, New York, Page (AZ), Philadelphia, San Antonio, and Washington, D.C.
Independence NHP is one of 26 parks in the NPS participating in First Bloom this program year.

National Public Lands day 2010
The First Bloom Girls Scouts of Independence NHP held a Fall Clean-Up in their garden in honor of National Public Lands Day. They spent the day weeding, collecting seeds and spreading mulch. Most of the seed pods on the butterfly milkweed plants were still too green to collect. However, the 90 degree weather over the past few days cause at least two seed pods to open up. The girls collected the seeds and will let them dry over the winter. In the spring, they hope to germinate new butterfly milkweed to plant in other areas of the park.
All the girls enjoyed working in the garden. It was great to have Chris Caporellie there to take pictures and filming. These will be used for a pod cast and updates to the website.The Girl Scouts were especially grateful for the water, pastries and juice boxes donated by the Traffic Club of Philadelphia. Beverly Morris had a special treat for them too. Each girl received a pedometer from the park in appreciation for their help in making Public Lands Day a success at Independence NHP.
First