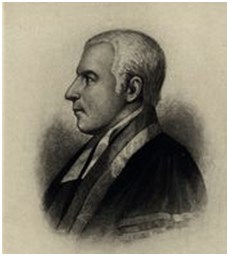 Supreme Law of the Land
"…I think we shall eventually agree upon and adopt a system that will give strength and harmony to the Union, and render us a great and happy people. This is the wish of every good, and the interest of every wise man.
-William Paterson to his wife, Euphemia
A number of members from the large states met before the Convention opened to decide what to do about yesterday's vote, giving the states an equal vote in the Senate. They couldn't decide on any action. Several small state delegates were present and saw that their interests were safe.
As soon as the Convention convened, Gouverneur Morris moved to reconsider yesterday's decision, but was not seconded. The Convention then took up the powers to be given the legislature, including the clause giving Congress a veto over State laws. The clause was defeated, MA, VA, and NC ay, 7 no. Luther Martin then proposed language that became the "supreme law of the land" clause:
"that the Legislature Acts of the United States made by virtue and in pursuance of the Articles of Union, and all treaties made and ratified under the authority of the United States shall be the supreme law of the respective States, as far as those acts or treaties shall relate to the said States, or their Citizens and inhabitants - and that the Judiciaries of the several States shall be bound thereby in their decisions, anything in the respective laws of the individual States to the contrary notwithstanding."
Adopted without opposition, this clause has proven one of the most distinctive provisions in our system of government.
NEXT>>
Wednesday, July 18, 1787
Executive Appointment of Judges Not Approved

HOME The 225th Anniversary of the Constitution Convention