Independence Hall Tower Rehabilitation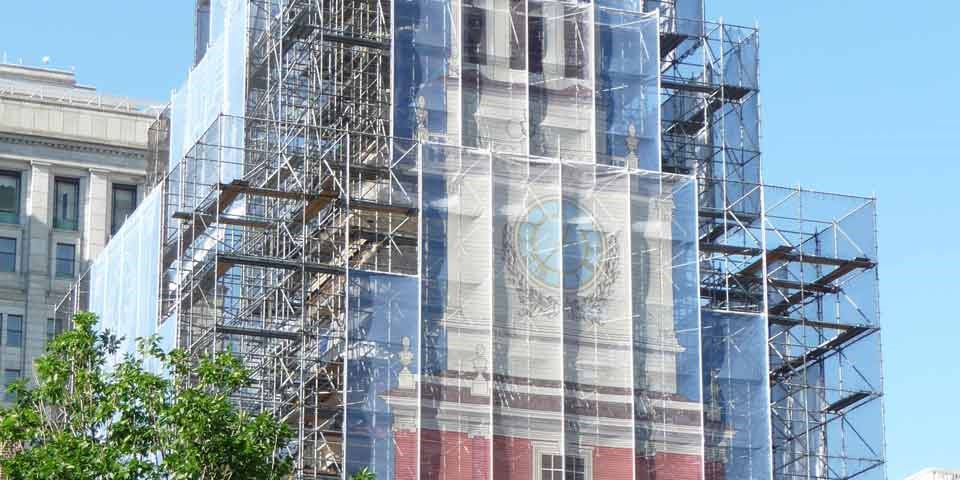 From 2010 to 2012, the tower underwent a 14 month rehabilitation project funded under the American Recovery and Reinvestment Act. The work performed on the Strickland tower stopped, and corrected, the decay of the tower's exterior.
As originally designed and built, Independence Hall had no tower or steeple. These were added around 1750. The original wooden steeple had rotted by 1773 and was removed in 1781. In 1828, the city hired architect William Strickland to restore the original steeple. Strickland deviated from the original design, incorporating a clock and additional ornamentation. A recent restoration of the steeple revealed Strickland's modern engineering principles.


Workers repointed and replaced damaged brick masonry, and restored and painted window sashes, frames, and doors. Carpentry repairs included painting and caulking on all exposed wood decorative elements over the full height of the tower. This project also required reinforcing the new clock faces, bracing all building elevations, refurbishing the historic urns, and replacing the supporting weathervane structures.

Take a virtual tour through the tower and steeple prior to renovations.
Last updated: February 9, 2022