Excavation of James Dexter Site
During the excavation, archeologists identified18th and 19th century foundation walls, four privy pits and a wooden barrel-lined with trash pit. Approximately 27,000 artifacts were recovered during the dig of Dexter's lot. Subsequent analysis revealed that only the barrel-lined trash pit contained artifact deposits dating to Dexter's occupation.

The pit contained nearly 4,000 household objects. Most of these objects discovered were incomplete and found amongst numerous thin layers of soil. Archeologists proposed that the material in the pit accumulated as a result of periodic sweeping, a common African practice, of a dirt yard behind Dexter's house.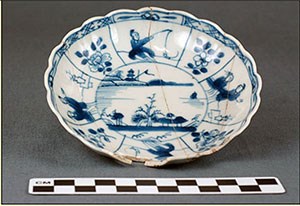 What can we learn about Dexter from these artifacts?

These artifacts recovered during the excavation offered greater insight into Dexter's daily life. Dexter's household used a range of tableware from inexpensive common vessels to costly imported teaware. As a coachman to a wealthy Philadelphia family, Dexter would have been well paid and could afford to purchase the relatively expensive imported teaware. This would have allowed him to host meetings of the church building community and to serve refreshments on a table set in style suitable for the dignity of the occasion.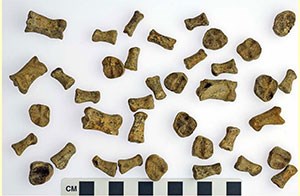 Archeologists recovered fragments of animal bones from the barrel-lined trash pit. Dexter's household enjoyed a broad diet that included beef, lamb, pork, fish and poultry. A significant portion of the bones represented more costly kinds of cuts of meat. In addition to the evidence of high end cuts of meat, archeologists also found pig's feet bones which was a common component in the diet of the enslaved. The pig's feet bones represent "comfort food" that probably evoked family and identity for the Dexter family.
Last updated: February 26, 2015