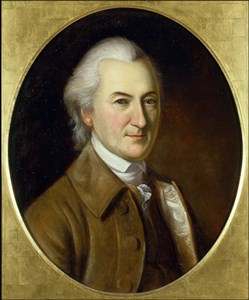 Electing the Senate
"Mr. Dickinson thereupon moved, that the second branch of the national legislature be chosen by the legislatures of the individual states."
-Robert Yates, recorded in his notes on the Convention
The Committee of the Whole took up the matter of choosing the Senate's members today. James Wilson (PA) moved that the people elect the Senate. A lively debate ensued, for certainly Madison (VA), and probably most other delegates, realized that election of Senators by the states ensured more of a role for the states in the new government than the nationalists wanted them to have. It also tended to work against proportional representation in the Senate. A motion to consider Wilson's motion lost with ten states against, Pennsylvania for. John Dickinson's motion was then approved unanimously.
NEXT>>>
Friday, June 8, 1787 Veto Powers

HOME The 225th Anniversary of the Constitution Convention