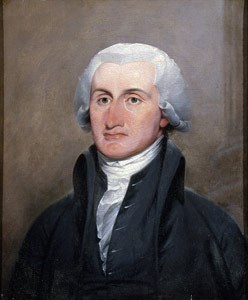 Debating the Judiciary
"The long Session of the Convention will I doubt not produce a System so well matured and wise as to have no Room for applying the moral of the old fable: montes partei vient [the mountain labored and gave birth to a mouse]."
-Secretary for Foreign Affairs John Jay to his father-in-law, Convention delegate Governor Livingston of New Jersey
Consideration of Article X, section 2, of the Committee of Detail report on the powers and duties of the Executive, resumed.
L. Martin (MD) moved to allow the President the power to pardon only after a conviction. Wilson (PA) pointed out the need to use pardons to obtain testimony, and Martin withdrew the motion.
Morris (PA) objected to having the Supreme Court try the President on impeachment and to having the President of the Senate succeed the President. Madison agreed, and suggested that when vacancies occurred, the powers of the President devolve on the Council [cabinet]. The motion was postponed.
Article XI, on the Judiciary, came up. Dr. Johnson (CT) suggested that the judicial power should extend to both law and equity. Read (DE) opposed, but the motion carried. Dickinson (DE) moved to make judges removable by the Executive on application of Congress.
Today's debate on the judiciary is typical of the attention to detail the delegates gave to almost every provision, and is illustrative of their thinking. Madison's notes show that line by line consideration continued and several clarifying amendments were approved by day's end.
NEXT >>>
Tuesday, August 28, 1787
Slogging On
HOME The 225th Anniversary of the Constitution Convention