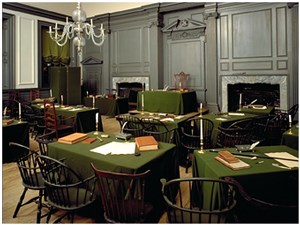 Debate Resumes on the Compromise

"So many forms of government I believe never were contrived before they are floating about here in all directions like Spectators worlds some half-finished, some a quarter, the greatest part but just begun --mere political tadpoles.I am now sitting in the big room [the Assembly Room of Independence Hall]. Your old acquaintance Gouverneur Morris is now speaking..."
-Abraham Baldwin to his brother-in-law Joel Barlow


Debate resumed on a proposal for one representative for every 40,000 people in the first house. G. Morris moved to send it to a committee to spell out the number for each state, leaving later Congresses to make adjustments. Wilson seconded. Gorham disagreed. He thought numbers of inhabitants the true guide, particularly since Virginia and Massachusetts were about to lose Kentucky and Maine, and other states should be divided.

After debate, the Convention referred the matter to Gouverneur Morris, Gorham (MA), Rutledge (SC), Randolph (VA) and King (MA). The compromise proposed for an equal vote in the second branch was taken up. Dr. Franklin observed that this question could not properly be put separately, since it was part of a package compromise. The Convention voted to postpone this issue.
The Convention went back to the proposal for originating money bills in the first house and voted to retain the provision, 5 aye, 3 no, 3 divided.

The question was raised as to whether a vote in which there were only 5 ayes out of ll votes was an affirmative. By a vote of 9 aye, New York and Virginia no, the Convention said it was.
NEXT >>>
Saturday, July 7, 1787 Vote Postponed on the Compromise

HOME The 225th Anniversary of the Constitution Convention