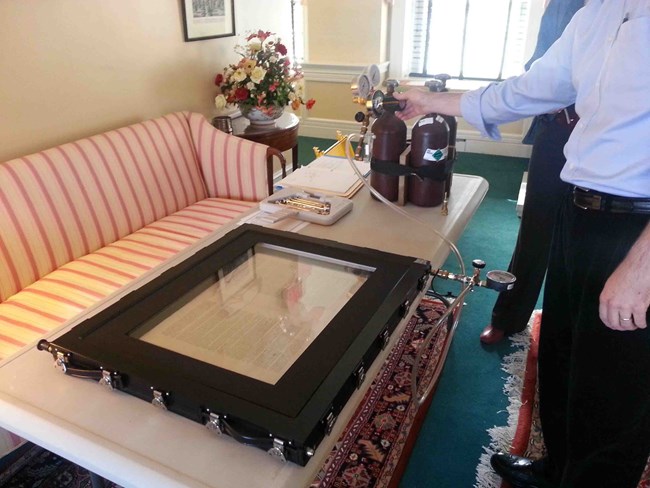 Located in the West Wing of Independence Hall, the Great Essentials Exhibit displays surviving copies of the Declaration of Independence, the Articles of Confederation and the Constitution of the United States. So how exactly are these priceless documents preserved?

The conservators are from Philadelphia's Conservation Center for Art and Historic Artifacts (CCAHA). Twice a year, they work with Independence National Historical Park's (INHP) Museum Branch staff to replenish the preservative environment in which the "Great Essentials" documents are housed. This preservative environment consists of a completely oxygen-free atmosphere. Instead of oxygen, argon is used for the preservative environment surrounding our documents. Argon is completely inert, so it doesn't facilitate organic decay the way oxygen does. Argon is heavier than oxygen, so it tends to leak out of the containers which house the documents. In order to compensate for that leaking, the CCAHA conservators top off the individual document containers with new argon every six months. That way, it's assured to have a stable preservative environment for the documents.
While the CCAHA conservators are replenishing the documents' argon environments, park staff turn the pages of each of the three documents. This is done so that each page of each document receives equal light exposure. Even though all harmful sunlight is blocked from the exhibit room and only non-damaging fiberoptic lighting to illuminate the documents is used, it's still important for each page to receive the same amount of light exposure over time. The Declaration is only one page, so it gets rotated back forth with an exact replica (made for the park by CCAHA). The Articles have four pages, and the Constitution has 5 pages. This rotation schedule is why (1) visitors don't see the first page of each document all the time, and (2) it seldom works out that all three documents are showing their first pages at any given time.