Vegetation Inventory and Map for Tonto National Monument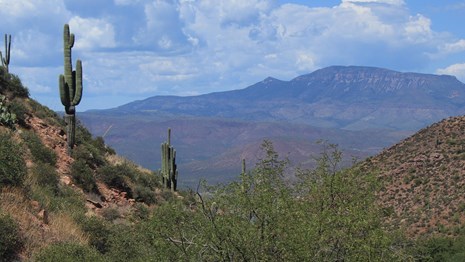 Overview
Tonto National Monument supports a high diversity of flora that not only supports an incredible natural ecosystem, but also tells the story of how the Salado people used these plants 700 years ago. he different plant communities are reflective of the elevation changes within the Monument. Sonoran Desert Scrub vegetation is most commonly seen with its mixture of cactus, trees, shrubs and flowers. Higher up, grasses and other plants are added as the vegetation transitions to a Semi-desert Grassland. Desert Riparian Scrub exists in canyon bottoms and washes where enough water passes through or is stored for desert trees and bushes. There is also a small Interior Southwestern Riparian Deciduous Forest. It is supported by the permanent spring in Cave Canyon.
The Tonto National Monument Vegetation Inventory Project delivers many geospatial and vegetation data products, including an in-depth project report discussing methods and results, which include descriptions to vegetation associations, field keys to vegetation associations, map classification, and map-class descriptions. The suite of products also includes a database of vegetation plots, and accuracy assessment (AA) sites; digital images of field sites; digital aerial imagery; digital maps; a contingency table listing AA results; and a geodatabase of vegetation, field sites (vegetation plots, and AA sites), aerial imagery, project boundary, and metadata.
Products
The products of vegetation mapping projects are stored and managed in the National Park Service's Data Store, a repository for documents and publications relating to park resources. From the highlighted items below, click on the type of information you are looking for.
Last updated: October 19, 2018