Vegetation Inventory and Map for Sunset Crater National Monument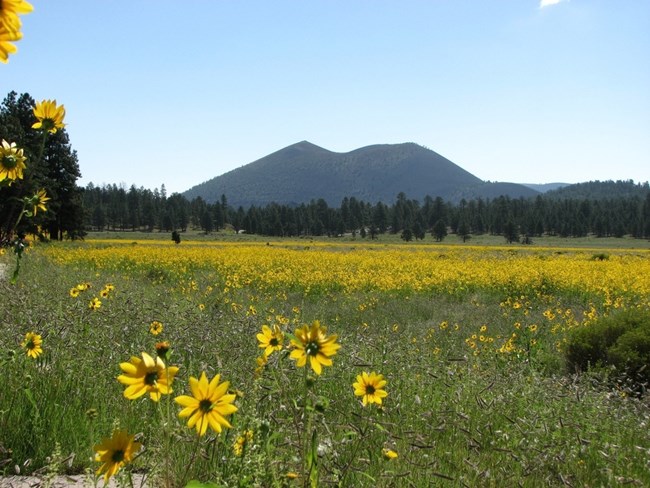 Overview
About half of Sunset Crater Volcano National Monument is still barren or semi-barren cinder fields, with little obvious vegetation. Until substantial soil formation occurs and organic material increases, plant growth on cinders is essentially like hydroponics — to be successful, plants must be capable of rapidly absorbing water and water-borne nutrients, before they drain away. The oldest pinyon pines found here are about 250 years old, and biologists believe that these very trees were the first colonists of this new landscape. The isolated vegetation "islands" of pinyon, ponderosa, and aspen we see today effectively float on the young, deep cinder deposits. Without disturbance, these islands will eventually knit together to form a forested landscape like that seen across older parts of the volcanic field. But aridity makes succession exceedingly slow.
The Sunset Crater Volcano National Monument Vegetation Inventory Project delivers many geospatial and vegetation data products, including an in-depth project report discussing methods and results, which include descriptions to vegetation associations, field keys to vegetation associations, map classification, and map-class descriptions. The suite of products also includes a database of vegetation plots, and accuracy assessment (AA) sites; digital images of field sites; digital aerial imagery; digital maps; a contingency table listing AA results; and a geodatabase of vegetation, field sites (vegetation plots, and AA sites), aerial imagery, project boundary, and metadata.
Products
The products of vegetation mapping projects are stored and managed in the National Park Service's Data Store, a repository for documents and publications relating to park resources. From the highlighted items below, click on the type of information you are looking for.
Last updated: October 19, 2018