Vegetation Inventory and Map for Stones River National Battlefield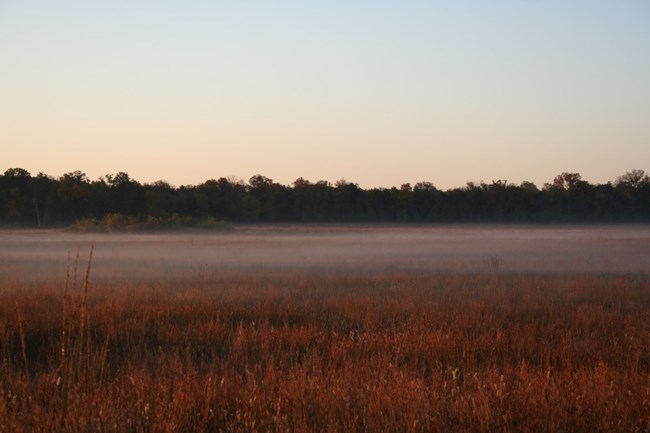 Overview
The Stones River National Battlefield site is approximately 300 hectares. There are a variety of forest types on the uplands and bottomlands. Nashville Basin limestone glades on the Main Park are characterized by grassy openings, with a shrubdominated edge. In addition to native glades, there are cultivated fields. The National Cemetery has a maintained lawn and many ornamental trees and shrubs. All of the Stones River National Battlefield is within the watershed of the West Fork Stones River. Elevation ranges from approximately 525 feet at the West Fork Stones River in the northwest part of the Artillery Monument to approximately 595 feet along the west part of the Loop Road on the Main Park and approximately 595 feet along the ridge at the Fortress Rosecrans site.
The Stone River National Battlefield Vegetation Inventory Project delivers many geospatial and vegetation data products, including an in-depth project report discussing methods and results, which include descriptions to vegetation associations, field keys to vegetation associations, map classification, and map-class descriptions. The suite of products also includes a database of vegetation plots, and accuracy assessment (AA) sites; digital images of field sites; digital aerial imagery; digital maps; a contingency table listing AA results; and a geodatabase of vegetation, field sites (vegetation plots, and AA sites), aerial imagery, project boundary, and metadata.
Products
The products of vegetation mapping projects are stored and managed in the National Park Service's Data Store, a repository for documents and publications relating to park resources. From the highlighted items below, click on the type of information you are looking for.
Last updated: November 14, 2018