Vegetation Inventory and Map for Salinas Pueblo Missions National Monument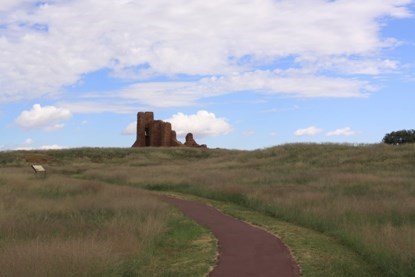 Overview
At Salinas Pueblo Missions National Historic Site there is an abundance of plant life. Plants that bear fruits such as chokecherries, currants, and gooseberries are abundant in the area. They are an important food source to the many birds that visit or live in the area, and to many of the mammals. When corn or squash was low in cultivation, it is quite possible that the people that lived here 300-600 years ago utilized the fruit bearing plants. The fruits of these plants are still harvested by many people today. Some of the plants at the sites of Abó and Quarai, were planted in the early 1930's by the WPA such as wild cherries, wild plums, cottonwood trees and Western Yellow Pines. Probably the most notable plant is the Buffalo Gourd, a wild relative of the cultivated squash. Like the squash, the Buffalo Gourd grows on a vine with fruit the size of a tennis ball.
The Salinas Pueblo Missions National Monument Vegetation Inventory Project delivers many geospatial and vegetation data products, including an in-depth project report discussing methods and results, which include descriptions to vegetation associations, field keys to vegetation associations, map classification, and map-class descriptions. The suite of products also includes a database of vegetation plots, and accuracy assessment (AA) sites; digital images of field sites; digital aerial imagery; digital maps; a contingency table listing AA results; and a geodatabase of vegetation, field sites (vegetation plots, and AA sites), aerial imagery, project boundary, and metadata.
Products
The products of vegetation mapping projects are stored and managed in the National Park Service's Data Store, a repository for documents and publications relating to park resources. From the highlighted items below, click on the type of information you are looking for.
Last updated: October 19, 2018