Vegetation Inventory and Map for Santa Monica Mountains National Recreation Area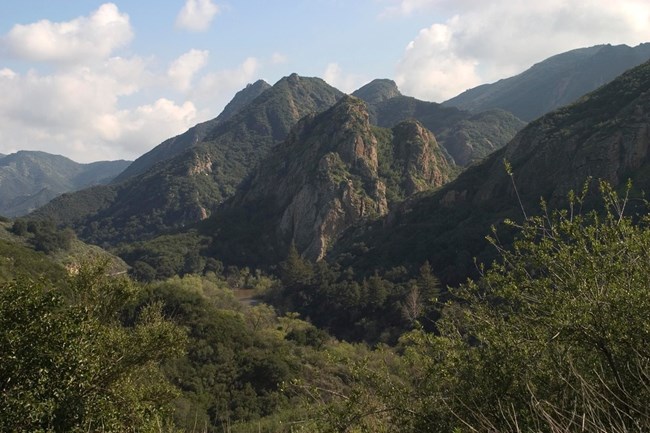 Overview
The Santa Monica Mountains National Recreation Area are home to 12 vegetation communities, which are derived from 26 vegetation associations. These include coastal salt marsh, coastal strand, coastal sage scrub, chaparral, coast live oak woodland, riparian woodland, valley grassland, valley oak savanna, freshwater ponds/lakes, rock outcrops, and suburban development. The Santa Monica Mountains rise above Los Angeles, widen to meet the curve of Santa Monica bay, and reach their highest peaks facing the open ocean. The land is beautiful and diverse. The rugged coastline offers narrow sandy beaches and rocky shores. Dense chaparral and fragrant sages cover the canyon walls. Inland, lone valley oaks accentuate the grassy hillsides.
The Santa Monica Mountains National Recreation Area Vegetation Inventory Project delivers many geospatial and vegetation data products, including an in-depth project report discussing methods and results, which include descriptions to vegetation associations, field keys to vegetation associations, map classification, and map-class descriptions. The suite of products also includes a database of vegetation plots, and accuracy assessment (AA) sites; digital images of field sites; digital aerial imagery; digital maps; a contingency table listing AA results; and a geodatabase of vegetation, field sites (vegetation plots, and AA sites), aerial imagery, project boundary, and metadata.
Products
The products of vegetation mapping projects are stored and managed in the National Park Service's Data Store, a repository for documents and publications relating to park resources. From the highlighted items below, click on the type of information you are looking for.
Last updated: April 16, 2020