Vegetation Inventory and Map for San Juan Island National Historical Park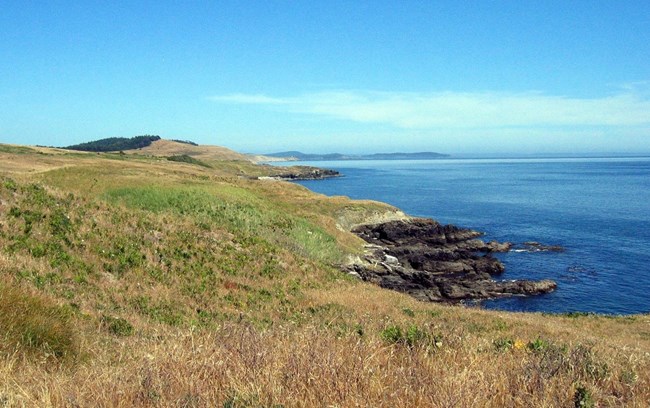 Overview
Because of the varied ecosystems and biological communities of San Juan Island National Historical Park, you'll find a diverse variety of plant life, including prairie, fir-hemlock-cedar forests, Garry oakwoodlands, thickets, intertidal areas, lagoons, and wetlands. Prairie spans nearly half the acreage at American Camp, from the bluffs along South Beach to the south-facing slopes of Mount Finlayson. Non-native species have infested the prairie, but patches of native grasses and wildflowers still exist. On the northern slopes of Mount Finlayson are Douglas fir, western hemlock, western red cedar, grand fir, and lodge pole pine. The understory includes evergreen salal and western sword fern. South-facing slopes are drier, and though Douglas firs still dominate, the understory is much thinner. Other trees found here are the big leaf maple, Pacific madrone, and Pacific yew. English Camp is dominated by mature Douglas firs and grand firs, big leaf maple, red alder, Pacific madrone, and a few western red cedars and Pacific yews. A remnant stand of open Garry woodlands remains on the south slope of Young Hill.
The San Juan Island National Historical Park Vegetation Inventory Project delivers many geospatial and vegetation data products, including an in-depth project report discussing methods and results, which include descriptions to vegetation associations, field keys to vegetation associations, map classification, and map-class descriptions. The suite of products also includes a database of vegetation plots, and accuracy assessment (AA) sites; digital images of field sites; digital aerial imagery; digital maps; a contingency table listing AA results; and a geodatabase of vegetation, field sites (vegetation plots, and AA sites), aerial imagery, project boundary, and metadata.
Products
The products of vegetation mapping projects are stored and managed in the National Park Service's Data Store, a repository for documents and publications relating to park resources. From the highlighted items below, click on the type of information you are looking for.
Last updated: October 19, 2018