Vegetation Inventory and Map for Saguaro National Park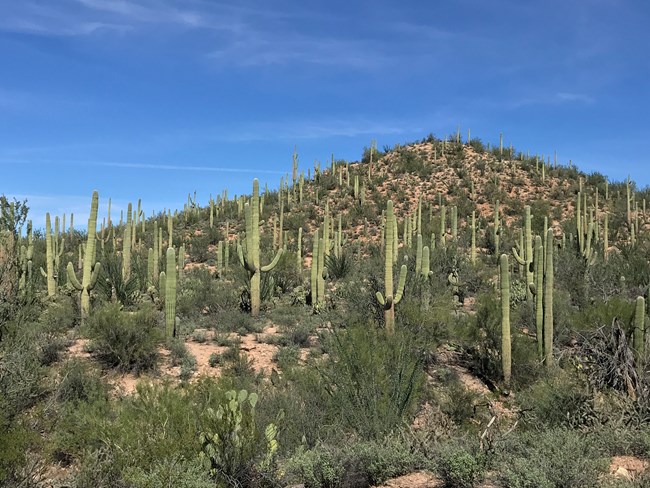 Overview
Saguaro National Park is located in southern Arizona, in the northeastern portion of Pima County, around the city of Tucson. The park comprises two districts, the Tucson Mountain District (TMD) and the Rincon Mountain District (RMD). The Tucson Mountain District of Saguaro National Park ranges from an elevation of 2,180 ft to 4,687 ft and contains 2 biotic communities, desert scrub, and desert grassland. The Rincon Mountain District of Saguaro National Park ranges from an elevation of 2,670 ft to 8,666 ft and contains 6 biotic communities. The biotic communities include desert scrub, desert grassland, oak woodland, pine-oak woodland, pine forest and mixed conifer forest. At Saguaro National Park, a total of 97 distinct vegetation associations were described: 83 exclusively at the RMD, 9 exclusively at the TMD, and 5 occurring in both districts.
The Saqauro National Park Vegetation Inventory Project delivers many geospatial and vegetation data products, including an in-depth project report discussing methods and results, which include descriptions to vegetation associations, field keys to vegetation associations, map classification, and map-class descriptions. The suite of products also includes a database of vegetation plots, and accuracy assessment (AA) sites; digital images of field sites; digital aerial imagery; digital maps; a contingency table listing AA results; and a geodatabase of vegetation, field sites (vegetation plots, and AA sites), aerial imagery, project boundary, and metadata.
Products
The products of vegetation mapping projects are stored and managed in the National Park Service's Data Store, a repository for documents and publications relating to park resources. From the highlighted items below, click on the type of information you are looking for.
Last updated: February 25, 2022