Vegetation Inventory and Map for Roosevelt-Vanderbilt National Historic Sites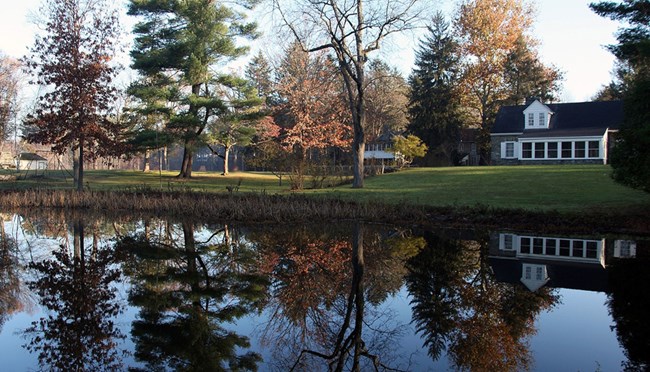 Overview
Roosevelt-Vanderbilt NHS consists of three sites: the Eleanor Roosevelt NHS, the Home of Franklin D. Roosevelt NHS, and Vanderbilt Mansion NHS in Hyde Park, New York. The sites, totaling over 1,100 acres, are located within three miles of each other in western Dutchess County. The park is located in the Eastern Great Lakes and Hudson Lowlands ecoregion, and has a broad array of natural resources. Both the Home of Franklin D. Roosevelt and Vanderbilt Mansion border on the Hudson River, a brackish-water estuary until the dam at Troy, New York, 75 miles to the north. The presence of the river brings a marine influence far inland, resulting in unique plant communities and animal species otherwise uncommon to the region. The lands are primarily forested and include many wetlands. A 25-acre tidal marsh lies between the Home of Franklin D. Roosevelt and the Hudson River, and a dam built by the Roosevelt family in 1925 across the Fall-Kill Creek created an extensive wetlands complex at Eleanor Roosevelt. Park units contain approximately four miles of streams; 14 acres of permanent ponds; 40 acres of non-tidal wetlands; numerous unmapped vernal pools and intermittent streams; mature second-growth hardwood forests; numerous rock outcrops; a sphagnum swamp; and a wet sedge meadow.
The Roosevelt-Vanderbilt National Historic Sites Vegetation Inventory Project delivers many geospatial and vegetation data products, including an in-depth project report discussing methods and results, which include descriptions to vegetation associations, field keys to vegetation associations, map classification, and map-class descriptions. The suite of products also includes a database of vegetation plots, and accuracy assessment (AA) sites; digital images of field sites; digital aerial imagery; digital maps; a contingency table listing AA results; and a geodatabase of vegetation, field sites (vegetation plots, and AA sites), aerial imagery, project boundary, and metadata.
Products
The products of vegetation mapping projects are stored and managed in the National Park Service's Data Store, a repository for documents and publications relating to park resources. From the highlighted items below, click on the type of information you are looking for.
Last updated: October 19, 2018