Vegetation Inventory and Map for Pipestone National Monument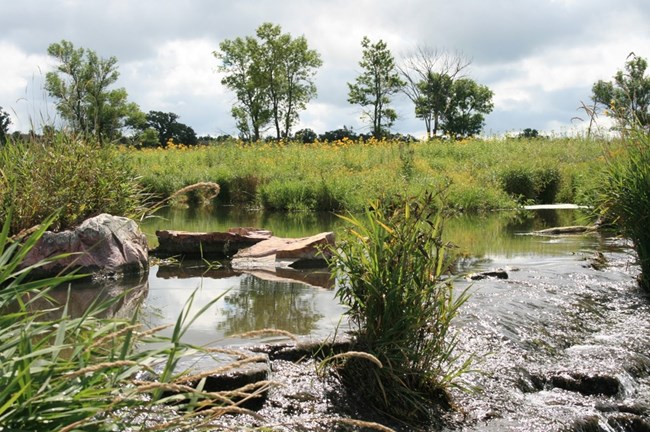 Overview
Pipestone National Monument, by virtue of its protected status, has some of the only native tallgrass prairie habitat left in the southwest Minnesota. The plants of the prairie can be seen close up along the Circle Trail and viewed as a stunning mosaic from the road. Over 500 species of plants occur at the Monument; many of them are rare. One federally threatened species, the Western prairie-fringed orchid, occurs at the Monument but is not visible most of the year from the Circle Trail. Between 9 and 13 state-listed rare species also occur at the Monument, mostly associated with the rock outcroppings.
The Pipestone National Monument Vegetation Inventory Project delivers many geospatial and vegetation data products, including an in-depth project report discussing methods and results, which include descriptions to vegetation associations, field keys to vegetation associations, map classification, and map-class descriptions. The suite of products also includes a database of vegetation plots, and accuracy assessment (AA) sites; digital images of field sites; digital aerial imagery; digital maps; a contingency table listing AA results; and a geodatabase of vegetation, field sites (vegetation plots, and AA sites), aerial imagery, project boundary, and metadata.
Products
The products of vegetation mapping projects are stored and managed in the National Park Service's Data Store, a repository for documents and publications relating to park resources. From the highlighted items below, click on the type of information you are looking for.
Last updated: October 19, 2018