Vegetation Inventory and Map for Petroglyph National Monument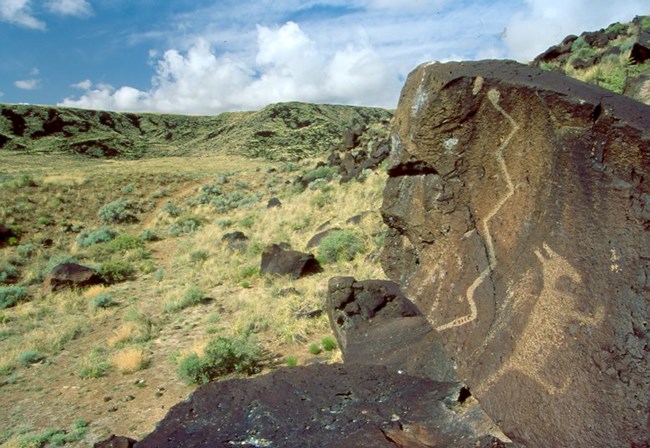 Overview
Petroglyph National Monument lies in the middle Rio Grande Valley of northcentral New Mexico, adjacent to the city of Albuquerque. The vegetation pattern of Petroglyph National Monument is intricately interwoven with its geology, especially the Albuquerque volcanic field. The lava flows of the volcanic field form a broad mesa along the western flank of the Rio Grande Valley and support some of the most diverse and intact semi-desert grasslands in the state. Along the eastern edge of the mesa is a steep, boulder-strewn escarpment that is the location of the majority of petroglyphs for which the park is known. Desert wash (arroyo) shrublands are found in the intervening valleys along ephemeral stream channels.
The Petroglyph National Monument Vegetation Inventory Project delivers many geospatial and vegetation data products, including an in-depth project report discussing methods and results, which include descriptions to vegetation associations, field keys to vegetation associations, map classification, and map-class descriptions. The suite of products also includes a database of vegetation plots, and accuracy assessment (AA) sites; digital images of field sites; digital aerial imagery; digital maps; a contingency table listing AA results; and a geodatabase of vegetation, field sites (vegetation plots, and AA sites), aerial imagery, project boundary, and metadata.
Products
The products of vegetation mapping projects are stored and managed in the National Park Service's Data Store, a repository for documents and publications relating to park resources. From the highlighted items below, click on the type of information you are looking for.
Last updated: October 19, 2018