Vegetation Inventory and Map for Natchez Trace Parkway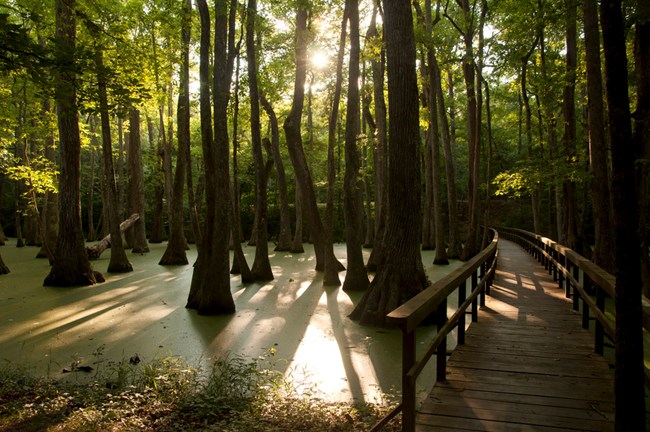 Overview
The Natchez Trace Parkway contains a huge and diverse array of plant species by virtue of it being a 444 mile long park oriented in a generally north-south direction. This enables it to contain representative habitat from four ecosystem provinces: the eastern broadleaf forest at the northern end of the park is dominated by hickory and oak species, while the lower Mississippi riverine forest at the opposite terminus features beech and oak species adapted to warmer conditions. In between the two extremes lie the outer coastal plain mixed forest and the southeastern mixed forest, both of which contain more of a pine and hardwood mix. Add to this diverse array of ecoregions the fact that the parkway traverses eight major watersheds, and it is not surprising that as of now nearly 2,200 plant species have been documented in the park.
The Natchez Trace Parkway Vegetation Inventory Project delivers many geospatial and vegetation data products, including an in-depth project report discussing methods and results, which include descriptions to vegetation associations, field keys to vegetation associations, map classification, and map-class descriptions. The suite of products also includes a database of vegetation plots, and accuracy assessment (AA) sites; digital images of field sites; digital aerial imagery; digital maps; a contingency table listing AA results; and a geodatabase of vegetation, field sites (vegetation plots, and AA sites), aerial imagery, project boundary, and metadata.
Products
The products of vegetation mapping projects are stored and managed in the National Park Service's Data Store, a repository for documents and publications relating to park resources. From the highlighted items below, click on the type of information you are looking for.
Last updated: October 18, 2018