Vegetation Inventory and Map for Natural Bridges National Monument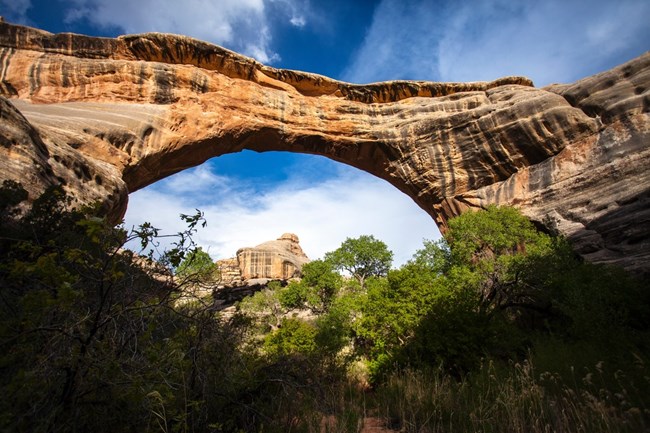 Overview
From mesa tops to ancient streambeds, Natural Bridges National Monument supports hundreds of different kinds of plants. ixed stands of pinyon pine and Utah juniper cover millions of acres in the southwest. These trees grow closely associated and dominate the landscape in dry, rocky terrain at elevations between 4,500 and 6,500 feet. Several plants also grow along the canyon slopes, taking advantage of crevices, seeps, and shade. Many of the same wildflowers that grow on the mesa top can survive down here. Shrubs like service berry, mountain mahogany, and round leaf buffalo berry also grow here. Much of Natural Bridges' water is on the canyon floor. These ancient streambeds usually appear dry except for a few persistent pools, but shallow groundwater and occasional flash floods provide enough for riparian plants. Cottonwood, willow, and box elder trees are common here, as well as water-loving grasses, wildflowers, and even cattails.
The Natural Bridges National Monument Vegetation Inventory Project delivers many geospatial and vegetation data products, including an in-depth project report discussing methods and results, which include descriptions to vegetation associations, field keys to vegetation associations, map classification, and map-class descriptions. The suite of products also includes a database of vegetation plots, and accuracy assessment (AA) sites; digital images of field sites; digital aerial imagery; digital maps; a contingency table listing AA results; and a geodatabase of vegetation, field sites (vegetation plots, and AA sites), aerial imagery, project boundary, and metadata.
Products
The products of vegetation mapping projects are stored and managed in the National Park Service's Data Store, a repository for documents and publications relating to park resources. From the highlighted items below, click on the type of information you are looking for.
Last updated: October 18, 2018