Vegetation Inventory and Map for Lassen Volcanic National Park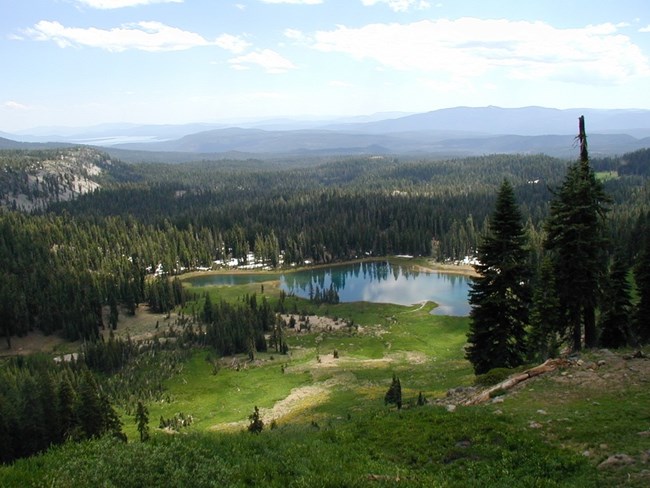 Overview
Although Lassen is primarily known for its volcanic geology, the park boasts a rich diversity of plant and animal life. Over 700 flowering plant species grace the park. This great diversity of life forms is due to two factors: the geographic location of the park and the abundance of habitats that occur there. Situated at the southern end of the Cascade Range geologic province, Lassen Volcanic National Park lies at the crossroads of three great biological provinces: the Cascades range to the north, the Sierra Nevada mountains to the south and the Great Basin desert to the east. The myriad habitats of Lassen Volcanic National Park are produced by variations in environmental conditions such as elevation (5,000 to 10,457 feet), moisture (precipitation is greater on the western than the eastern side of the park), substrate (rock type and soil depth), temperature, insolation (amount of sun) and prior disturbance (both natural and human-caused).
The Lassen Volcanic National Park Vegetation Inventory Project delivers many geospatial and vegetation data products, including an in-depth project report discussing methods and results, which include descriptions to vegetation associations, field keys to vegetation associations, map classification, and map-class descriptions. The suite of products also includes a database of vegetation plots, and accuracy assessment (AA) sites; digital images of field sites; digital aerial imagery; digital maps; a contingency table listing AA results; and a geodatabase of vegetation, field sites (vegetation plots, and AA sites), aerial imagery, project boundary, and metadata.
Products
The products of vegetation mapping projects are stored and managed in the National Park Service's Data Store, a repository for documents and publications relating to park resources. From the highlighted items below, click on the type of information you are looking for.
Last updated: November 8, 2018