Vegetation Inventory and Map for Lake Roosevelt National Recreation Area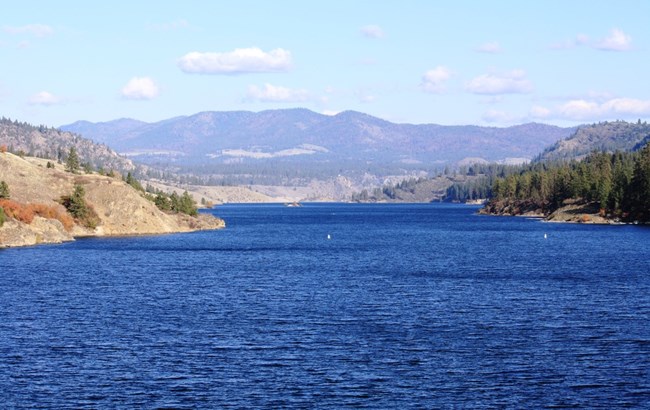 Overview
The upper Columbia River gorge, within which Lake Roosevelt is contained, stands in stark testimony to its geology and climate. The national recreation area spans three distinct physiographic provinces: the Okanogan Highlands, the Kootenay Arc, and the Columbia Plateau. Vegetation is characterized by shrub steppe species such as sagebrush and bitterbrush. To the north in Colville, precipitation is around 17 inches per year, which is sufficient to support the ponderosa pines and Douglas-fir forests that are common to the area. Rainfall continues to increase as the lake approaches Northport.
The Lake Roosevelt National Recreaction Area Vegetation Inventory Project delivers many geospatial and vegetation data products, including an in-depth project report discussing methods and results, which include descriptions to vegetation associations, field keys to vegetation associations, map classification, and map-class descriptions. The suite of products also includes a database of vegetation plots, and accuracy assessment (AA) sites; digital images of field sites; digital aerial imagery; digital maps; a contingency table listing AA results; and a geodatabase of vegetation, field sites (vegetation plots, and AA sites), aerial imagery, project boundary, and metadata.
Products
The products of vegetation mapping projects are stored and managed in the National Park Service's Data Store, a repository for documents and publications relating to park resources. From the highlighted items below, click on the type of information you are looking for.
Last updated: October 16, 2018