Vegetation Inventory and Map for Knife River Indian Villages National Historic Site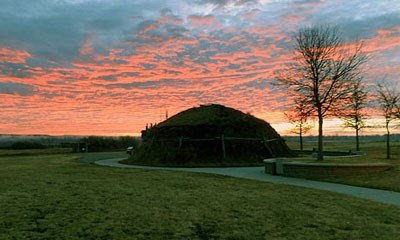 Overview
Knife River Indian Villages National Historic Site contains remnants of native vegetative communities. Specifically, lower terraces contain an over-story of cottonwood, peach leaved willow, green ash, box elder and american elm. Various grasses such as wheatgrass, needlegrass, grama grass, upland sedges, little and big bluestem and a wide variety of forbs and flowers dominate the upper terraces in the park. Many types of shrubs such as choke cherry, wild plums, buffalo berry, June berry, are found along the hiking trails and often enjoyed by the visiting public and native wildlife. Portions of both the flood plain and upper terrace are in different stages of succession.
The Knife River Indian Villages National Historic Site Vegetation Inventory Project delivers many geospatial and vegetation data products, including an in-depth project report discussing methods and results, which include descriptions to vegetation associations, field keys to vegetation associations, map classification, and map-class descriptions. The suite of products also includes a database of vegetation plots, and accuracy assessment (AA) sites; digital images of field sites; digital aerial imagery; digital maps; a contingency table listing AA results; and a geodatabase of vegetation, field sites (vegetation plots, and AA sites), aerial imagery, project boundary, and metadata.
Products
The products of vegetation mapping projects are stored and managed in the National Park Service's Data Store, a repository for documents and publications relating to park resources. From the highlighted items below, click on the type of information you are looking for.
Last updated: October 16, 2018