Vegetation Inventory and Map for Katmai National Park and Preserve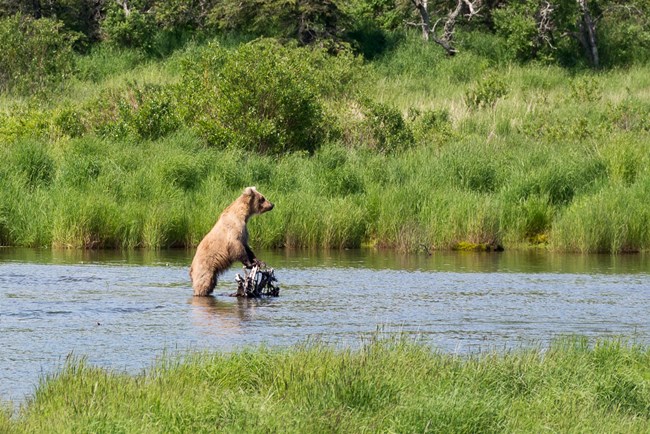 Overview
Katmai National Park and Preserve is approximately 4-million acres in size, spanning the Alaska Range on the Alaskan Peninsula. Katmai encompasses a diversity of vegetation and landforms in a landscape that is largely unchanged by human development. The southern and eastern portions of the Park border the coastline of Cook Inlet and Shelikof Strait with a climate moderated by the ocean. The Alaska Range parallels the coast in this region and includes a number of glaciers and peaks above 7000' elevation, as well as dramatic volcanoes. The northern and western portions of Katmai are of much more moderate relief, contain many large lakes, and experience the colder climate of the Bristol Bay region.
The Katmai National Park and Preserve Land Cover Mapping Project was initiated in July, 2000 in an effort to upgrade and improve vegetation/land cover information for this region. The project was to benefit from Geographic Resource Solutions land cover mapping techniques, which enable the development and maintenance of detailed original land cover data throughout map development processes and delivery of a final map data set that retains this highly detailed "bird's-eye view" level of information in the form of a land cover database. Generalized land cover maps may then be derived from this detailed land cover database. In addition, alternative more directed detailed maps may be derived from the land cover database as needed.
Products
The products of vegetation mapping projects are stored and managed in the National Park Service's Data Store, a repository for documents and publications relating to park resources. From the highlighted items below, click on the type of information you are looking for.
Last updated: July 9, 2018