Vegetation Inventory and Map for Jewel Cave National Monument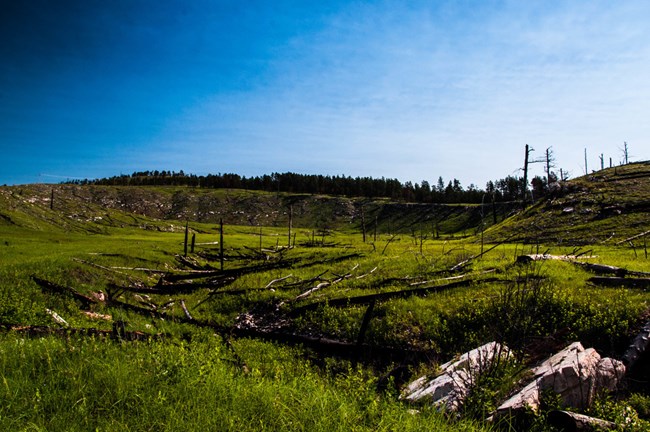 Overview
Jewel Cave National Monument encompasses 1,274 acres, which includes habitats of ponderosa pine forest and open meadows caused by the Jasper Fire in August 2000. The monument hosts a rich diversity of native plants that complement the herbarium of southwestern South Dakota. The dominant vegetation is ponderosa pine (with a variety of understory species), interspersed with multiple plants of the mixed-grass prairie. As noted, the Jasper Fire significantly altered the monument's vegetation by burning through a land area of about 83,500 acres. The current park flora includes 391 taxa, 16% of which are non-native.
The Jewel Cave National Monument Vegetation Inventory Project delivers many geospatial and vegetation data products, including an in-depth project report discussing methods and results, which include descriptions to vegetation associations, field keys to vegetation associations, map classification, and map-class descriptions. The suite of products also includes a database of vegetation plots, and accuracy assessment (AA) sites; digital images of field sites; digital aerial imagery; digital maps; a contingency table listing AA results; and a geodatabase of vegetation, field sites (vegetation plots, and AA sites), aerial imagery, project boundary, and metadata.
Products
The products of vegetation mapping projects are stored and managed in the National Park Service's Data Store, a repository for documents and publications relating to park resources. From the highlighted items below, click on the type of information you are looking for.
Last updated: October 15, 2018