Vegetation Inventory and Map for Isle Royale National Park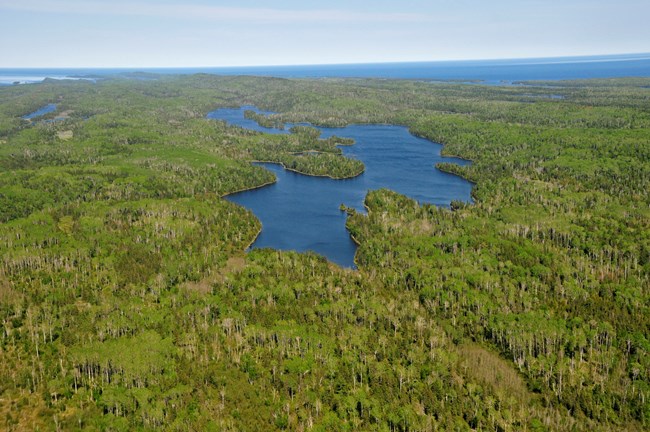 Overview
Lake Superior has shaped Isle Royale National Park's rugged rocky shore and created its isolation. Balsam fir, white spruce, paper birch, aspen, and mountain ash are typical boreal forest trees that grow along Isle Royale's rugged shoreline. Common Isle Royale shrubs include bearberry, prickly rose, juniper, and mountain ash, all of which grow in drier rocky areas. You can find leatherleaf, bog laurel, bog rosemary, and labrador tea thriving in boggy areas, while tag alder and sweet gale dominate other wetlands. Isle Royale is home to over 600 flowering plants which range in size from tiny duckweeds floating in inland ponds to majestic white pines reigning on its ridges.
The Isle Royale National Park Vegetation Inventory Project delivers many geospatial and vegetation data products, including an in-depth project report discussing methods and results, which include descriptions to vegetation associations, field keys to vegetation associations, map classification, and map-class descriptions. The suite of products also includes a database of vegetation plots, and accuracy assessment (AA) sites; digital images of field sites; digital aerial imagery; digital maps; a contingency table listing AA results; and a geodatabase of vegetation, field sites (vegetation plots, and AA sites), aerial imagery, project boundary, and metadata.
Products
The products of vegetation mapping projects are stored and managed in the National Park Service's Data Store, a repository for documents and publications relating to park resources. From the highlighted items below, click on the type of information you are looking for.
Last updated: October 11, 2018