Vegetation Inventory and Map for Hovenweep National Monument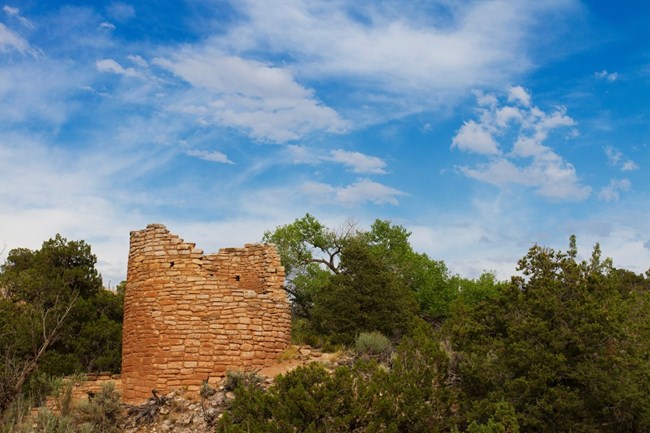 Overview
Hovenweep National Monument is located on Cajon Mesa in the heart of the Great Sage Plain, which stretches from western Colorado to Eastern Utah. As the name of the area suggests, abundant sagebrush is one of the vegetative features of this arid, high desert zone. Four distinct vegetative groups can be identified at Hovenweep: pinyon-juniper forests blanket Cutthroat Castle; sagebrush interspersed with juniper trees are found around Holly, Horseshoe and Hackberry; sagebrush is dominant at Square Tower; and Cajon is surrounded by scrubland. The park contains about 325 different plant species. Types include shrubland, mixed sage and juniper woodland, pinyon-juniper forest, and riparian communities.
The Hovenweep National Monument Vegetation Inventory Project delivers many geospatial and vegetation data products, including an in-depth project report discussing methods and results, which include descriptions to vegetation associations, field keys to vegetation associations, map classification, and map-class descriptions. The suite of products also includes a database of vegetation plots, and accuracy assessment (AA) sites; digital images of field sites; digital aerial imagery; digital maps; a contingency table listing AA results; and a geodatabase of vegetation, field sites (vegetation plots, and AA sites), aerial imagery, project boundary, and metadata.
Products
The products of vegetation mapping projects are stored and managed in the National Park Service's Data Store, a repository for documents and publications relating to park resources. From the highlighted items below, click on the type of information you are looking for.
Last updated: October 15, 2018