Vegetation Inventory and Map for Hawaii Volcanoes National Park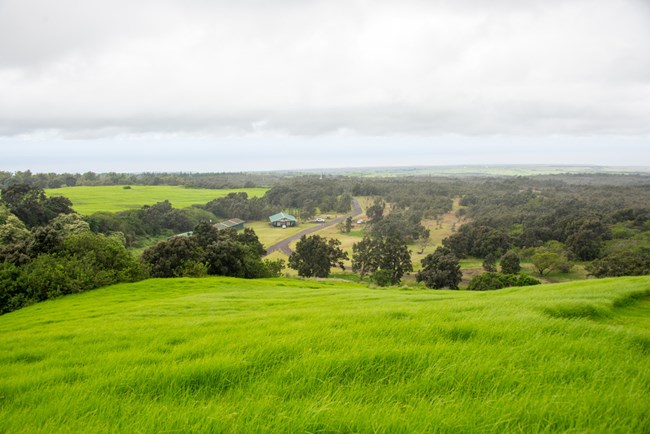 Overview
At the Hawaii Volcanoes National Park's mid-elevation, blazing blooms of 'ohi'a trees and towering fronds of giant hapu'u, a tree fern, rise amid a tangle of misty rain forest. Miles above, the distinctive rosette of the endangered Mauna Loa silversword clings to an alpine ledge. Evolving over 70 million years ago in nearly complete isolation, more than 90% of the State's native flora are found only in the Hawaiian Islands. The intriguing story of plants within the Park includes a host of chapters such as the extreme isolation of the Hawaiian Archipelago, the processes by which flora and fauna arrived and developed and the influences of lava flows of varying age, texture and chemical composition. Moisture brought by prevailing trade winds delivers extreme differences in annual rainfall. Acid rain from the eruptions of Kilauea Volcano paints chemical deserts across miles of lava flows within the Park as ongoing lava flows form new landscapes. Together, all these influences create a remarkable mix of habitats in seven ecological life zones.
The Hawaii Volcanoes National Park Vegetation Inventory Project delivers many geospatial and vegetation data products, including an in-depth project report discussing methods and results, which include descriptions to vegetation associations, field keys to vegetation associations, map classification, and map-class descriptions. The suite of products also includes a database of vegetation plots, and accuracy assessment (AA) sites; digital images of field sites; digital aerial imagery; digital maps; a contingency table listing AA results; and a geodatabase of vegetation, field sites (vegetation plots, and AA sites), aerial imagery, project boundary, and metadata.
Products
The products of vegetation mapping projects are stored and managed in the National Park Service's Data Store, a repository for documents and publications relating to park resources. From the highlighted items below, click on the type of information you are looking for.
Last updated: November 8, 2018