Vegetation Inventory and Map for Fort Vancouver National Historic Site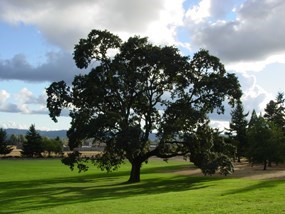 Overview
Vegetation is a critical component of the Fort Vancouver National Historic Site landscape because of the prominent role agricultural and subsistence activities played in the fort's success and influence in the Pacific Northwest. The cultivated fields, garden, orchard, and livestock pastures were all significant landscape features during the historic period of the Hudson's Bay Company occupation of the site. To date, while no other vegetation dating from the historic period exists in the park today, the landscape character of some areas surrounding the palisade is still indicative of the vegetation associated with the historic period.The vegetation along the river historically consisted of native riparian trees and shrubs. Today, the majority of the Fort Vancouver Waterfront consists of native riparian vegetation, masses of black cottonwoods, willows, and alders.
The Fort Vancouver National Historical Site Vegetation Inventory Project delivers many geospatial and vegetation data products, including an in-depth project report discussing methods and results, which include descriptions to vegetation associations, field keys to vegetation associations, map classification, and map-class descriptions. The suite of products also includes a database of vegetation plots, and accuracy assessment (AA) sites; digital images of field sites; digital aerial imagery; digital maps; a contingency table listing AA results; and a geodatabase of vegetation, field sites (vegetation plots, and AA sites), aerial imagery, project boundary, and metadata.
Products
The products of vegetation mapping projects are stored and managed in the National Park Service's Data Store, a repository for documents and publications relating to park resources. From the highlighted items below, click on the type of information you are looking for.
Last updated: October 9, 2018